On Campus
Campaign Management Institute: 30 Years of a Winning Strategy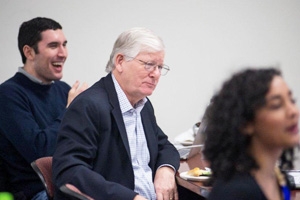 SPA's Campaign Management Institute (CMI) has come a long way.
CMI has evolved from its trailblazing start as the nation's first academic program in campaign management to an internationally recognized dynamic curriculum drawing students from across the globe to learn and practice the art and science of campaigning.
Developed and taught by acclaimed campaign consultants, strategists, and researchers, this two-week, hands-on program serves as a valuable foundation for political activists and campaign managers.
"The institute brings together academic knowledge with practitioners' wisdom to prepare students to become campaign professionals," said CMI founder James Thurber, a distinguished professor in the government department.
Directed by SPA Professor Candice J. Nelson, the institute covers all dimensions of campaign strategy, including messaging, finance, microtargeting, polling, and both new and traditional media. The institute, held twice a year in January and May, draws students and professionals from all over the world, according to Nelson.
Practical skills

CMI employs a variety of teaching tools to simulate life in the trenches of a successful political campaign. Groups of five to six students work together to develop and present a comprehensive campaign plan for an actual upcoming race. The teams present their plans before a panel of faculty and campaign professionals in a final session. In 2012, one student plan won a coveted Pollie, known as the Oscar of political advertising.
"It really simulates the pace and the intensity of managing a campaign, which is hard to capture," said Andy MacCracken, SPA/BA '11, who took CMI in May 2010. MacCracken is now executive director of the National Campus Leadership Council, and working toward an MPA at SPA.
"I came out of it with new skills in strategic thinking and implementing the tactics to reach your vote goal," he said. 
MacCracken's CMI team developed a campaign strategy for John Hickenlooper, who was then running as the democratic candidate for governor of Colorado, the student's home state.
"The coolest thing was going home and dropping off the plan at headquarters and talking with the campaign managers about it," said MacCracken.
Prominent graduates

The institute boasts a long list of notable alumni, including Rob Engel, former executive director of the Democratic National Committee, and Scott Goodstein, who was director of external media for Obama's 2008 campaign. Thurber jokes that he is like television mafia boss Tony Soprano, often calling in favors from heavyweight alumni to come speak at CMI or help current students get their foot in the door for campaign-related jobs.
Glen Bolger, co-founder of Public Opinion Strategies and one of the Republican Party's leading political strategists and pollsters, is one such celebrated alumnus. When Bolger took CMI in 1985, he was on the brink of graduating but undecided about his future. 
"I got bitten by campaign bug through CMI; it had a huge impact on my career choice. It's a wonderful program for people who think they might want to get involved in campaign politics," said Bolger, who still makes cameos as a CMI speaker.

Staying relevant

A lot has changed since the days when Bolger was a student, when "students had to order hard copies of newspapers and wait in line to use the phone," said Nelson, but that's one of the strengths of the CMI: its steady focus on innovation in campaigning. "We're constantly looking at what's new and fresh to make sure the institute stays relevant," Nelson said.
That often means recruiting sought-after speakers on hot topics like digital media or micro-targeting. Recent speakers have included journalist Sasha Issenberg, author of Victory Lab: The Secret Science of Winning Campaigns, and Mark Putnam, who headed up media efforts for President Obama's 2008 and 2012 campaigns.
To stay on the cutting edge, Nelson develops a fresh curriculum each session, so interested students will just have to stay tuned for the lineup for the next institute, May 13-26, 2013.
About CMI
SPA's Center for Congressional and Presidential Studies, which was founded and directed by Professor Thurber and hosts CMI, also offers one-credit weekend workshops and two-day boot camps on focused topics like caucuses, ethics and lobbying, campaign finance, social media, and running for office. Like CMI, these workshops also take a practical, hands-on approach. The Public Affairs and Advocacy Institute (PAAI), also offered by CCPS twice a year, focuses on lobbying. Students taking both CMI and PAAI find they are competitive in the public affairs job market.