Achievements
Celebrating Student Success: Brian Hamel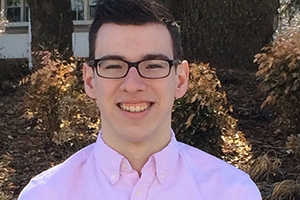 AU School of Public Affairs (SPA) congratulates Brian Hamel (class of 2016) on his acceptance into the "Advanced Empirical Research on Politics for Undergraduates Program (AERoPUP,)" a joint program between the National Science Foundation and the Society for Political Methodology. Hamel is pursuing his BA in Political Science with honors, and will receive a grant of $1,000 in financial support from the AERoPUP. In addition, he will have a spot on the program at the July 2016 meeting of the Society for Political Methodology at Rice University.
SPA is committed to nurturing the intellectual curiosity of its students and encouraging academic pursuits both on and off campus. Hamel's advisor, Jan Leighley, commented on his achievement, "His success is a great example of the quality of our students, as well as what an active research faculty can do to enhance the undergraduate experience at AU."
Upon receiving news of his admission to the program, Hamel made note of the important role that SPA's faculty and staff played in his growth, "SPA has allowed me to enroll in Ph.D.-level substantive and methodological courses since I was second-year student. These courses made me think critically about both political science theory and design and really cemented my decision to pursue research and a graduate degree."
Hamel's honors thesis, "Ideological or Strategic? Using Electoral Loss to Understand Contribution Motivations," will examine the motivations of individual campaign donors. The research will seek to understand the motivations of donors by analyzing how they respond in subsequent cycles to losing elections.
After graduation, Hamel hopes to continue his education by pursuing a Ph.D. in political science. Ultimately, he aspires to work at a research university, where he can continue to contribute to the study of political participation, money in politics, and campaigns and elections in the U.S. SPA is proud of Hamel's success and its committed faculty and educational excellence, which serve as springboard for students as they advance in their studies and career objectives.
Click to learn more about the AERoPUP:
https://polisci.osu.edu/undergraduate/advanced-empirical-research-politics-undergraduates-programs