On Campus
SPA Event Highlights the Challenges of Governing Diverse Societies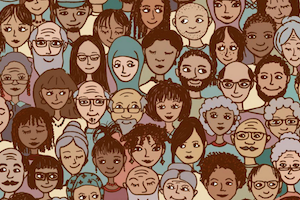 The challenge to hold diverse groups of people together is central to many modern societies. As countries develop and evolve around the world, their populations become more diverse in ethnicity, race, class, and beliefs.
Muhammad Mushtaq, associate professor and chair of the Department of Political Science and International Relations at the University of Gujrat, Pakistan visited AU's School of Public Affairs recently to meet with faculty and students to discuss this growing issue.
"We were so pleased that Muhammad could spend the day with us at SPA," said SPA Assistant Professor Sonja Walti. "He's one of the foremost global experts in the ways countries govern a democracy when facing challenges of a diverse population. His visit also has us ponder our own management of societal diversity."
During an afternoon panel session, Mushtaq described the challenges of managing ethnic diversity in Pakistan's parliamentary federation, where there are four main ethnic groups and each of the country's provinces has a decisive majority and a substantial minority. He explained that there have been steps toward inclusive federalism with structural changes in the government aimed at sharing power, but challenges remain unresolved. 
"Regional identities and minority groups still seem uncomfortable with the existing constitutional set up," said Mushtaq. "Reforms have not solved the ethnic problems."
SPA Professor David Lublin said his research on ethnic and regional parties around the world shows their influence depends on the structure of the country's electoral system. A winner-takes-all election leaves smaller, minority groups underrepresented, compared to one where there is proportional representation based on vote percentages. 
This applies to the United States, too, which is becoming more of an "identity democracy," noted Lublin, where political party membership and election outcomes can be predicted, in large part, by the voters' race, ethnicity or religious affiliation. 
"As political parties are increasingly align themselves with these groups, you have to ask the question: How, with these divisions, can we make our government function better?" said Lublin.
Also on the panel was SPA Assistant Professor Kimberly Cowell-Meyers, who described the collapse of the central political parties in Northern Ireland and resulting power shift from centrist parties able to accommodate diversity to fringe parties less committed to less committed to bridging diversity. With more extremism and no buffer in the middle, personal relations with top leaders have deteriorated and old divisive issues resurfaced.
"The parties need to figure out how to work together," said Cowell-Meyers. "This is especially true with the emergence of new issues such as Brexit, gay rights, and environmentalism." 
Governing can mean more than representation, it is also about providing services, said SPA Assistant Professor Khaldoun AbouAssi. One of the most common solutions to managing a diverse society is to decentralize the delivery of government services.
Transferring powers and resources to a lower level can engage citizens in public affairs and allow them to voice their concerns, but in a developing country, the central government may view this as threatening, the experts said.
In her research on Egypt, SPA Associate Professor Diane Singerman said, during the event, that citizens felt they had to express their concerns about poverty and other issues through public protests.
"While that confirms local citizens' concerns about services, it's just as much a call for the respect of diversity and civil rights," Singerman cautioned. 
Elyas Asamau, SPA/MPP '18, shared with the panel his experience working in the diverse nation of Indonesia, which has 17,000 islands and 700 spoken languages. Part of the government's strategy was to send civil servants, such as Asamau, abroad to get study these problems and return with solutions. Asamau said it was useful to hear the various panelists' perspectives: "We can compare the benefits in another country and apply them, if possible, in Indonesia."