Children's Health and the Changing Environment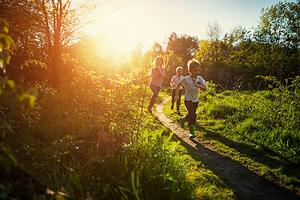 The AU School of Public Affairs (SPA) partnered with the Children's Environmental Health Network to sponsor a symposium recently that examined the effects of climate change on children's health. Experts from the medical field, the media, advocacy groups, and academia discussed how the rollback of regulations and lack of funding are posing threats to environmental protection.
"Children are especially vulnerable to the effects of environmental hazards," said Jerry Paulson, a pediatrician and professor in the Department of Environmental and Occupational Health at George Washington University School of Public Health and Health Services. Compared to adults, kids breathe more and drink more, so they take in higher doses of toxins and are at a greater risk of exposure because of how they eat and play.
"The reason we don't deal well with environmental problems is that we don't think about people when we think about the environment," said Paulson. Beyond a call to protect nature, many at the symposium talked about the need to tell the stories of individuals harmed by contaminants in the air, water, and land.
SPA Assistant Professor Claudia Persico said pollution can have lifelong consequences on children's development, academic achievement, and labor market success. Her research showed children living near federal toxic waste sites before they were cleaned up were more likely to have cognitive and learning disabilities, be suspended from school, and have lower test scores than their younger siblings born after the hazards were removed.
"These types of things are shaping our lives in ways we are just starting to understand," said Persico, who is trying to educate affected communities about avoiding environmental risks.
 
Children suffer disproportionately from pollution, and poverty and ethnic status makes exposure to environmental toxins more likely and the outcomes worse. For instance, Latino children are twice as likely to die from asthma. Experts called on organizations to seek input from people from diverse backgrounds to spread the word and lobby for policy changes.
"We need to react much quicker and demand action for our children," said Mark Magana, founding president of GreenLatinos, a national coalition of Latino environmental and conservation leaders. "We need to get on our feet, vote, … and be heard."
The symposium touched on how climate change is contributing to extreme weather events and the need for more long-term planning to mitigate future disasters.
"While the failure of flood walls caused much of the destruction following 2005 Hurricane Katrina, new studies indicate some of Katrina's characteristics, such as rainfall, were increased by the effects of global warming," said Mark Schleifstein, environmental reporter with The Times-Picayune who spoke at the event.
Beyond rising seas levels, the recent federal report on climate changes reinforces that cities need to worry about the impact of higher temperatures and increased rainfall as a result of climate change. While investments are being made in wetland restoration and infrastructure in Louisiana, the threat of another Katrina is significant today. Much of Louisiana's congressional delegation continues to the play the "climate denial card for politics" at same time they are aggressively in trying to get money for restoration efforts, said Schleifstein.
At the conclusion of the symposium, Dan Fiorino, director of the SPA Center for Environmental Policy, underscored the need for collaborative efforts to address environment problems and improve health conditions for those most at risk.
"What came across clearly in the discussion is that this a moral issue," said Fiorino. "If a society can't protect its children, then is it a morally just society?"