Research
PhD Student Couple Shares Heritage, Research Passions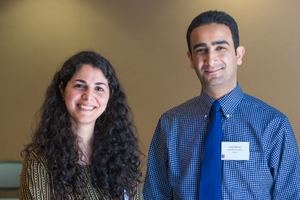 Collaborating comes naturally to SPA students Tofigh Maboudi and Ghazal Nadi – they not only happily share academic interests, but also a household. The Iranian couple met as students at the University of Tehran nine years ago. Now, as PhD students studying political science at SPA, Maboudi and Nadi have found a way to wed their research interests.
The couple recently presented a groundbreaking paper together entitled "Bringing the Constitution Online: The Struggle over Egypt's New Constitution" at an AU conference on Constitutions in Democratizing Countries this May.
After Iceland, Egypt was only the second country to put their draft constitution online for feedback, according to Maboudi. The duo studied the process to look at how online citizen feedback through social media and other public platforms shaped Egypt's new constitution – or didn't, as they found. "We got great feedback from constitutional experts at the conference, who were fascinated by our findings. It was very encouraging, and a wonderful experience overall," said Maboudi.
Forging relationships

While the two have shared research pursuits, they are also forging their own individual paths in conjunction with SPA professors. Nadi is working with Professor Todd Eisenstadt on a project examining the relationship between democracy and budget transparency, a topic she plans to pursue for her dissertation. "So far, we are finding that budget transparency is strongly correlated with democracy, and think this may be a new indicator for level of democracy in a country," she said.
Maboudi, meanwhile, has been collaborating with Professor Diane Singerman on research exploring how the opinions of the elite affect constitution making, continuing a thread of the work he did with Nadi. Maboudi received the 2013 Provost's Doctoral Research Award, which will fund his travel to Egypt this summer to do field work on the topic.
Middle Eastern influence

Growing up in the Middle East at a time of great change has had an important influence on the students' academic passions. For example, Maboudi's research on state legitimacy was inspired by his experiences during the Green Movement of 2009, when protesters demanded the removal of Iranian President Mahmoud Ahmadinejad. "As I was working with the foreign media then, I saw the uprisings firsthand, and this helped me develop my interest in political science – particularly the dynamic between the state and opposition."
"The region is changing so fast, and it's hard to predict what will come from this change," says Nadi. "But we do know that more and more people have been exposed to democratic values, and that is changing people's minds, especially the youth who are driving this movement."
AU Community

The couple has found AU not only to be a great academic environment, having the opportunity to study with top experts in their field, but also a warm and welcoming community. "Both our professors and students have welcomed us as international students," said Maboudi. "Everyone is very understanding and always ready to help us navigate life in a new country."