Achievements
Retired U.S. Army Lieutenant Colonel Daniel Gade Joins SPA Faculty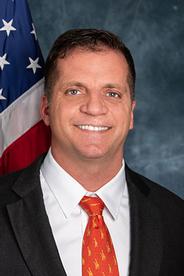 An extraordinary résumé of service, sacrifice, and resilience accompanies Daniel Gade, a retired U.S. Army Lieutenant Colonel and former White House veterans-affairs advocate whose work as a Professor of Practice at SPA began this semester.
Twice wounded in combat in Iraq, and formerly a professor of public policy and leadership at the United States Military Academy, Gade was nominated to serve on the Equal Employment Opportunity Commission but decided instead to teach at SPA.
"I'm thrilled to be back in the classroom," said Gade, who graduated from West Point in 1997 and earned his PhD from University of Georgia. "I love teaching. I love students and learning together with them. So, the chance to be back in the classroom was the number one motivation for me. I am very grateful to SPA for asking me to serve on the faculty."
At a time when many young people have little experience with military service and few personal encounters with members of the armed forces, Gade hopes that his work at SPA will be an enterprise in mutual discovery and understanding.
"I think it makes it better," he said. "I think that one of the ways that our society will be made healthier is when people with divergent experiences – including wildly divergent experiences like mine – can learn together. Putting someone like me in a classroom among people from other countries or people whose political backgrounds are completely different from mine – as long as both sides are treating each other with respect and treating each other as if the other person has value – then everybody's better off."
Gade served In the George W. Bush administration, earned his doctorate from the University of Georgia, and later held the title of Senior Advisor in the US Department of Labor's Veterans Employment and Training Service. 
The son of two North Dakota schoolteachers and the father of three stresses commonalities with his students, not differences.
"I think the primary message for the students is that, although this person has this wild back story, he is just like all of us – all of us are here to learn," Gade said.