Government & Politics
SPA Alumna Writes Hopes to Future Women Presidents in New Book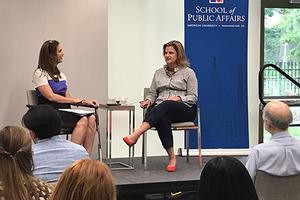 At the AU School of Public Affairs in late June, Jennifer Palmieri (SPA/BA '88) spoke with SPA Executive in Residence Betsy Fischer Martin (SPA/BA '92) in front of a packed room of people from the AU community about her new book, "Dear Madam President: An Open Letter to the Women Who Will Run the World."
Palmieri, a senior staff of the Clinton and Obama White House Communications Departments, served as director of communications for Hillary Clinton's 2016 presidential campaign. Her new book, a New York Times bestseller, discusses her role on the campaign and her advice for women.
"It felt like a movie scene you would never see," Palmieri writes in Dear Madam President. "The scene where you don't defuse the bomb just in time. The scene where the world explodes. Silence. A suffocating silence. Like I have been hurled into a black hole."
A year and a half later, Palmieri tells her audience that at least some of the shock and horror has been replaced with – if not exactly sunny optimism – a clearer realization of what the future first female President of the United States will need to bring to her campaign.
"Hillary got 3 million more votes, and that proved that a woman could do this," said Palmieri, in conversation with Fischer Martin, who is an Emmy-winning former long-time executive producer of NBC's Meet the Press.
"What I learned that I think is applicable to the future is to appreciate how, as much progress as we've made, it's still a radical thing for a woman to be in charge," said Palmieri. "Women got to vote in 1920. It hasn't even been a hundred years. If you step back and look at it from the scope of human history, we spent centuries and centuries making politics a comfortable place for men."
To any woman considering a candidacy, whether for a local school board or the White House, Palmieri's advice is to "Trust your confusion – the system really wasn't built with you in mind. I don't want women to run like men do – that's what we all get to change now."
Palmieri, who left her position as President Obama's communications director to join former Secretary of State Clinton's 2016 campaign, recalls – with some regret – how the candidate's "softer" side was tempered by her advisers as being unsuited to the viciousness of electoral combat against male rivals of unrestrained passion.
"We actually set out to prove that it didn't matter that Hillary Clinton was a woman," Palmieri writes in Dear Madam President. "And we did. But now I see that path robbed Hillary of something very valuable. Some measure of her own humanity, qualities we may not find in a male president."
"If there's one thing I wish she had been allowed to talk about more was the way she often told us, 'we need more love and kindness in the world,'" said Palmieri. "But none of the pollsters thought it was something she should talk about. The next woman is going to have an easier time because of her. Now, women feel empowered more than we were before that loss."