Alumni
How He Made It in Hollywood: Barry Josephson, SPA/BA '78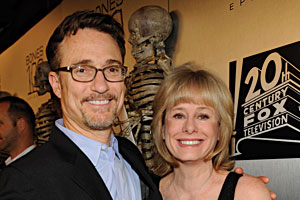 résumé
Launched FOX-TV's hit series Bones, inspired by forensic anthropologist and novelist Kathy Reichs, CAS/BA '70
Produced Aliens in the Attic (2009), Enchanted (2007), Hide and Seek (2005), The Ladykillers (2004), Like Mike (2002), and Big Trouble (2002) through Josephson Entertainment, a Twentieth Century Fox company
Led Columbia Pictures to the hits Men in Black, Air Force One, and The Fifth Element (all 1997); Bad Boys (1995); and In the Line of Fire (1993)
Cofounded Comic Relief, the popular TV fund raiser hosted by Robin Williams, Billy Crystal, and Whoopi Goldberg, and the U.S. Comedy Arts Festival with fellow AU alumnus Stu Smiley.
Represented performers, including Paula Abdul, Patti Labelle, and Whoopi Goldberg early in his career
roots
Josephson grew up on New York's Upper East Side, where his grandfather was in the jewelry business, his father worked in textiles, and his mother was in the dress trade. "I really wanted to be a lawyer, and political science seemed like the right thing to do in D.C.," he says, remembering his early days at AU.
In pursuit of that dream, he snared several internships, including one with consumer rights advocate Ralph Nader, but his New York–bred love of the arts never diminished. "At AU I briefly worked on the concert committee," he remembers fondly. By graduation, Josephson's love of music, film, and TV had won out. "I decided to move to L.A. and put law school on hiatus."
favorite part of the job
"I'm always so impressed with a director's vision, or a writer's great script, and the craftsmen who work in our industry—cinematographers, musicians, composers, prop masters, production designers, and editors who can shape things in some way you never expected."
big breaks
His first L.A. job was developing movies and a music catalog for film producer and music entrepreneur Bobby Roberts.
Stop two was Lorimar, where he worked on post-production for a short-lived TV show, Boone (1983–84), based on an Elvis-like character. Its producer, Earl Hamner (best known for writing and narrating The Waltons and Falcon Crest), told Josephson he had an eye for working with talent and should pursue it. "I hadn't thought about the next step, and here was someone I respected shining a light that maybe personal management was the next thing to work on. It created a transition for me—working with talent. It was a turning point," he says.
Next up was a string of projects with high-profile Hollywood personalities who served as mentors—Mike Nichols, Jerry Bruckheimer, Clint Eastwood—and opportunities. "While I was the president of production from Columbia, I got to see Milos Forman pitch The People vs. Larry Flynt with Oliver Stone," he recalls.
"Everyone has their own way of working and creating a film or TV show, and I've had many experiences like that—where I had the good fortune [to be] in a room with someone and learn something new . . ."
current work
Following eight years making magic for Columbia Pictures, Josephson partnered in 1997 with Men in Black director Barry Sonnenfeld on a deal with Disney. Then in 2000, he pushed out on his own and started Josephson Entertainment Company, where he produced Like Mike (2002) for Twentieth Century Fox. That film turned into a producing arrangement that's now lasted eight years.
"You dream that these things can happen. They're just very hard to make happen," says Josephson of seeing the FOX-TV hit Bones finish its fifth season and do so well. Yet, it wasn't until he was working on the pilot of Bones with Reichs that he discovered they were both AU alumni. "I had seen a documentary about her work, and we talked so much about her current work at McGill University and in North Carolina that I didn't delve into her past."
The Warner Brothers movie Life as We Know It, starring Katherine Heigl, will come out in October. The story hit close to home for Josephson, whose daughter, Shira—with wife, actress Brooke Josephson—will soon turn one. The movie's theme: Who would take responsibility for our child—a relative, a best friend—if something happened to us? "I'm so proud of it. We're all very excited. It's a really wonderful love story, but the movie is grounded in a real-life concept."
images vs. reality
The image of a Hollywood producer may seem to drip glamour, but Josephson says glamour is just the icing on a cake that has taken a great deal of time and energy to make. "It's much more about a lot of hard work and experiencing other people's creative vision. If the journey was a good one, you get to briefly celebrate—the moment of the audience enjoying the film or of seeing a film win an award."
proudest accomplishment
"Personally, our daughter Shira. Professionally, it's still elusively around the corner. That's why all of this is worth doing."  
Josephson is a member of the School of Communication's Dean's Advisory Council and a former career mentor to several alumni, including last year's Alumni Rising Star recipient, Lindsay Webster, SOC/BA '03.