Communications
America's Most Succesful Cheapskate!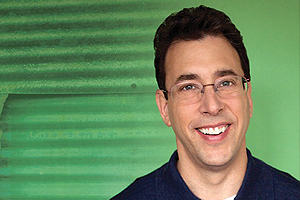 Clark Howard is rummaging through the top drawer of his desk looking for subway tokens. His brother, Gary, is wrapping up a visit from Arizona, and it will gnaw at Howard all day if his older bro has to pay the regular $1.75 fare to take Atlanta's MARTA to the airport. Clark buys the tokens in bulk, 20 for $30 ($1.50 each).
Never mind that a camera-man and producer are standing by waiting patiently for Howard to film some short teasers for the consumer affairs television segment he hosts on Atlanta's local news—it will kill him if Gary overpays. A quarter is a quarter.
Meet Clark Howard, SPA/BA '76, lovingly described by one of his producers as "America's most famous cheapskate." From his cherished home-town of Atlanta he's built a mini–media empire by preaching pinching pennies one at time. For Howard, frugality has proven mighty lucrative. His syndicated radio show is heard on 227 stations nationwide, and his 3.25 million listeners give him the eighth largest audience in the country, according to Talkers magazine. He's written eight books, appeared on local TV for 17 years, and become a one-man brand in Atlanta and beyond.
"I'm cheap and I'm proud of it," Howard, 53, says. "To me it's all about the teaching. This is the way I communicate to people the beliefs I have, but the fact that it's radio or TV has no magic to me. I want to empower the audience."
After finally shooting the TV segments at his home in one of Atlanta's most prestigious neighborhoods, Howard jumps into his natural gas–fueled Honda Civic for the short ride to the radio station. Parked next to it in the garage is one of his wife Lane's multiple Jaguars.
"My wife doesn't have the same attitude as me," he jokes. "I grew up two miles from where we're sitting right now. I was on the full silver spoon plan. This is the wealthiest part of Atlanta. I went to private schools all the way through. I don't know why, but in high school I started getting into bargains. It was almost like a game."
One he's thoroughly mastered. After a quick stop for lunch—a burrito for less than six bucks—Howard arrives at the second-story office suite that houses Team Clark: 13 paid professionals who work on the radio show and ClarkHoward.com, plus more than 150 volunteers who dish out off-air advice in his Consumer Action Center. Following a staff meeting, he records a few video spots for the Web site and a quick travel segment with executive producer Christa DiBiase.
"I feel like this job has been beyond a graduate degree for me," says DiBiase, who's worked for Howard for eight years. "I learn something every single day. I've always been really bad with money. There's some things he's really helped me with, like saving for retirement. But there are some things where I'm a work in progress. He will drive out of his way to save money on stuff. It pains him to see someone spend too much money."
A few minutes later Howard takes his spot behind the microphone in the main studio, and the "On Air" sign lights up red.
"Welcome to the Clark Howard Show. This is your show, and I'm here to serve you with advice and information you can put to work in your wallet each and every day so that you can save more, spend less, and avoid getting ripped off."
Save more
Howard has been buzzing all day over a new deal from Virgin Mobile, unlimited calling for $79 a month. The other major carriers' unlimited plans are $99, and worse, require a contract, which Virgin does not. Howard calls cell phone contracts "lousy, stinking, and rotten," and the companies that inflict them on their customers "cowardly."
That's about as salty as his language gets. Howard, who routinely uses terms like "phony baloney" and "fuddy duddy," might strike some as hokey if he wasn't so gosh darn genuine.
As a teenager he coveted a career in politics, so he headed to American University to study urban affairs.
"It was a fantastic degree because it was so multidisciplinary," he says. "I had to take real estate courses in the business school, administrative justice, I had to student teach one semester. It was the greatest preparation for the rest of my life."
Following his freshman year at AU, his father, Bernie, was muscled out of the family business, forcing Clark to bankroll the rest of his education. He got a job working for the Air Force and went to school at night year-round, graduating in three years to reduce room and board expenses.
In 1981 at the age of 25, sensing airline deregulation would create a boon in the travel industry, Howard opened an agency. Six years later the business had grown to five offices and attracted the attention of investors, who made him an offer he considered too good to refuse.
At 31, Howard was semiretired.
"I left Atlanta and moved to the east coast of Florida and became a beach bum," he says. "I would still be one today except for family reasons I had to come back to Atlanta. I was set for a while, not for life. It was enough that if I didn't want to work for probably 10 years, I didn't have to."
Out of seemingly nowhere, Howard got a call from a local radio station that asked him to be a guest on its Sunday travel program.
"Life has such unusual twists and turns," he says. "Everything that's happened to me since happened because of one guest appearance. I never studied for it, never even took a course in communications or journalism. It's not the normal path."
It's led to this moment, where Howard, standing behind the mic and sucking down a Coke Zero, is positively giddy about the Virgin Mobile deal.
"It might be over between Sprint and me."
Spend less
Doubt Howard's sincerity?
"If you're interested in one of my books, there are four that are currently published," he tells the audience. "The books at GetClarkSmart.com all come signed. You know that I would rather you not overpay, so shop our book prices against other sources, and look for my books used on Craigslist or eBay. And at the library books are absolutely free to read."
The man undersells himself!
"I think the reason initially I was successful was that on advice shows people almost always have a hidden agenda," he says. "I had nothing I was trying to sell them, and people could feel the excitement in me, the enthusiasm."
Eric Seidel could sense it too. After Howard took over the weekend travel show on which he once was a guest, it was Seidel, general manager of WGST at the time, who gave him a daily time slot.
"I had a consumer show on Monday through Friday which was not good at all," Seidel says. "The only thing clever about it was its name, Cover Your Assets. I said, 'Clark, I really need somebody who has encyclopedic knowledge of consumer issues,' and he answered, 'I do.' I took a chance on him, and it was well worth it. The beauty of Clark is what you hear is genuine. He not only talks the talk, he walks the walk."
A year later the show's ratings had quadrupled, and Howard was immersed in a new career. As his audience has grown, his philosophy has remained unchanged.
"If you don't give the viewer [or listener] a way to act on the information, you haven't given them anything," he says. "You have to connect the dots."
"Working for Clark has been like getting a huge raise," says one of his producers, Patti DiVincenzo. "I've cut my grocery bill in half, I'm now out of credit card debt. People know Clark, and they trust him. Even if it's a story that everyone else has done, everyone wants to know what Clark thinks, because it's him."
Don't get ripped off
"More and more of us are getting spam text messages on our cell phones, and to add insult to injury, we might be getting BILLED for them," Howard decries.
He's incredulous (and rightly so), but while most of us usually just leave it at that, Howard is determined to push back.
"Verizon and AT&T have ways to opt out, but they don't want you to know about them," he says.
Howard directs his listeners to his Web site, which has a link to a New York Times story detailing the procedure.
"He's loaded, but it really hurts him to spend money," DiBiase says. "But at the same time he has such a big heart. One thing the listeners probably don't know is that he's incredibly generous at the same time he's so cheap. He bought us our king size mattress because he found a great deal at Sam's Club. It was on my lawn when I came home one day."
Howard has personally paid for 23 Habitat for Humanity houses, at up to $175,000 each, according to Atlanta magazine, and yet, he thinks nothing of buying used shoes or sitting in the bloodiest of nose bleed seats at an Atlanta Falcons football game (his season tickets are "as far away from the field as they can be").
When it comes time for vacation, he lets the deal determine the destination. One of Howard's many catchphrases—otherwise known as Clark Speak—is "Buy the deal, then figure out why you want to go there." This year Howard's taking his wife, daughters Rebecca, 19, Stephanie, 9, and son Grant, 2, to Scandinavia, because Continental Airlines put Copenhagen on sale.
Every year Howard treats his staff to an all-expenses-paid trip somewhere in the world. They know the dates well in advance but not the place, because the best deals don't present themselves until two weeks before takeoff, he explains. Past spots have included Tokyo ($410 airfare round-trip), Madrid ($259), Prague ($295), and Hawaii ($322).
One thing Howard did pay a "king's ransom" for was his own show, which he purchased from Cox Communications in 2001. He didn't start making money on it until 2004, but it now generates revenue "well into seven figures."
It's clearly good to be King Clark, which makes the monumental decision he's now contemplating that much more difficult. Howard has harbored political ambitions his entire life and must decide by September whether to throw his hat into Atlanta's 2009 mayoral race. A poll reported in the Atlanta Journal-Constitution last summer showed him leading with 36 percent support.
"If you asked me a year ago it was probably 80 or 90 percent," he says. "But over time the reality of what's involved in being in office and the changes that would bring to my life has pulled me further and further away." He now puts his odds of running at 25 percent.
But that's a decision for a coming day, and there's still plenty of life to savor—and money to save—during this one. The show over, he drops off a visitor at the train station, kicking himself for being without those discounted subway tokens.
As the man climbs out and turns to shut the car door, Howard leans over and says, "Remember, you can fly standby on AirTran for free."