Alumni
AU's Diverse Cultures from Backpack to Briefcase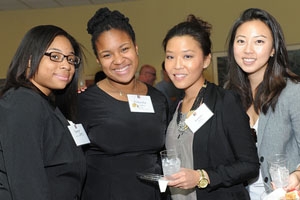 As the profile of America has grown into a cultural melting pot, so has the American University student body. Today, nearly one in five AU undergraduate students identifies as black or Latino and even more students are recognizing and celebrating their multicultural and multiracial heritages.  

As a part of President Kerwin's 10-year strategic plan for AU, this fall the university launched the Center for Diversity and Inclusion, an innovative and integrative way to address the campus life needs of its students and enhance multicultural student affairs on-campus.

Dr. Fanta Aw, assistant vice president for campus life, offers that, "the Center for Diversity and Inclusion was created because we realized that students were not comfortable being identified in 'single boxes' but were proud to embrace their multiple identities." Aw, a three-time AU alumna, also serves as director of the International Scholars and Student Services Office.

"The Center for Diversity and Inclusion is well-grounded in representing the best of AU," says Tiffany Speaks, the center's senior director. "Its creation embodies student voice, alumni experience, faculty input, and staff reflections." While the office has only been open for a few months, Speaks shares that the center's day-to-day traffic has increased, and the campus buzz continues to be positive.

That buzz goes beyond the campus to the alumni community as AU's Office of Alumni Relations has increased its outreach with the creation of alumni affinity groups.  

The Black Alumni Alliance (BAA) and Latino Alumni Alliance (LAA) are the first to emerge with strong alumni volunteer support and active programming.

"When the university approached me about helping reach 4,000 American University Latino alumni, I immediately saw and understood the opportunity," says Ana Polanco, Esq., SPA/BA '98, chair of the Latino Alumni Alliance. Polanco, along with classmate Jolene McNeil, CMP, SPA/BA '97, chair of the Black Alumni Alliance, are part of a group of alumni volunteers assisting the university in creating community-specific engagement opportunities for alumni. Through their work, alumni more uniquely connect with one another, current students, and the university community overall.

"I am encouraged not only by the university's stated commitment to engaging multicultural alumni, but more so that [the] idea has turned into action by creating and supporting efforts like the BAA and the Latino Alumni Alliance," says McNeil.

Both alliances are engaging alumni with creative events, particularly the BAA's Congressional Black Caucus Reception, led by event co-chair Jesse Lanier, Jr., Kogod/BSBA '94 and social media and marketing co-chair LaTanya M. Pattillo, Kogod/BSBA '95, and the CELEBRATE! Multicultural Alumni Reception during All-American Weekend 2012, which was led by event co-chairs Clarence J. Fluker, SOC/MA '02 and Janethe Peña, SIS/BA '02.

CELEBRATE! highlighted the broadly diverse cultures in American University's alumni lineage and brought together current students with multicultural alumni spanning five decades. The event featured a special message by President Kerwin, live tweeting, music, and over 120 attendees.

AU continues to educate and empower its students to proudly walk the paths of many alumni before them as prepared challengers and champions of global issues. "In the rapidly changing economic environment, the value of the AU network – students, staff, and alum – will be immeasurable," says McNeil.

We agree. Will you join us as an alumni affinity volunteer?