On Campus
Faculty Retreat Echoes Focus on Diversity, Inclusion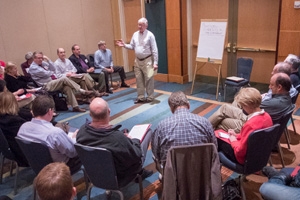 American University is known for valuing diversity. Numerous higher education rankings have cited the university for having a campus that is especially friendly to veteran students, GLBTA students, and students with disabilities. Students hail from nearly 140 countries around the world and all 50 states. The university's 23 student spiritual life groups include faiths from Baha'I to Unitarian Universalist. Eighty-two percent of incoming freshmen report that "improving their understanding of other countries and cultures" is important.
In fact, diversity is so important at AU that it is point five of the university's Strategic Plan: Reflect and Value Diversity. But to continue to attract and retain the best and brightest prospective students and faculty, even a place as advanced as AU is will have to increase its commitment to diversity by fostering a more inclusive environment as the demographics of the college-going population are rapidly changing.
American University's faculty recently came together during a one-and-a-half day retreat in Cambridge, Maryland, to learn about, strategize on, and celebrate diversity and inclusion at AU. "Diversity is not enough. It's really all about inclusion," said Fanta Aw, assistant vice president of campus life and director of international scholar and student services. Aw delivered a presentation at the retreat about diversity and inclusion from the student perspective. "Inclusion is a lot more work. It moves beyond simply accepting diversity to continuously engaging with it."
"Now that we are getting a more diverse population of students, what are ways that we can improve the climate of inclusion in our pedagogical, extra-curricular, and co-curricular activities? Are there subtle diversities of which we should be more aware?" posed Virginia (Lyn) Stallings, interim vice provost for undergraduate studies, who along with Michael Ginzberg, dean of the Kogod School of Business, organized this year's retreat.
The Changing Profile of the Average College Student
Prior to the retreat, faculty members were asked to read several white papers about demographic changes among the college-going population. According to the reports, the average college student in the year 2020—only eight years from now—will likely fit the following desription:
He or she will be Latino, Asian, or of another non-Caucasian ethnicity;
older than 18–24 years of age;
and take more courses online than he or she does in a classroom.
Additionally, most of the "traditional 18–24 years-old students" will hail from the Southern and Western regions of the United States as those are the areas of the country that will have an increase in the number of high school students. The Northeast will see its high school student population drop.
These changes reflect larger demographic changes across the United States. The Southern and Western states are experiencing rapid population growth, mostly driven by Latinos. The Northeast, a predominantly Caucasian region, is experiencing population decline. Next to Latinos, Asians are the most rapidly growing minority group in the United States.
Already, some of these changes are well represented in American University's student body. In the last five years, the number of AU students from the Southern and Western United States has increased 41 percent and 53 percent, respectively. Simultaneously, the number of African-American, Latino, and international students has dramatically increased by 124 percent, 169 percent, and 22 percent, respectively.
Benefits of Inclusion: A Diversity of Thought
But AU's focus on inclusion extends beyond changing demographics. It also seeks to instill among members of the AU community a greater appreciation for a diversity of thought—a variety of different perspectives and problem-solving skills which may or may not be influenced by other traits more conventionally associated with diversity, such as ethnicity, nationality, or gender.
One of the featured speakers at the faculty retreat, Scott E. Page, a professor at the University of Michigan and author of The Difference: How the Power of Diversity Creates Better Groups, Firms, Schools, & Societies, delivered remarks about how a diversity of thought is beneficial to organizations.
"Scott Page pointed out that when it comes to solving complex problems, a diverse group of people will generally outperform a group of high-IQ people," Stallings said. "Individuals in the high-IQ group use similar tools and strategies, ultimately limiting their capacity to see other solutions or faster ways of solving a problem. Individuals in the diverse group bring a variety of thinking tools and approaches to the table, making for a more powerful group for solving a complex problem."
Professor James Thurber, director of AU's Center for Congressional and Presidential Studies, led a workshop during which faculty members explored a specific kind of diversity of thought: political diversity in the classroom. For this purpose "political diversity" is not limited to whether a student identifies as a Democrat, Republican, or Libertarian. It is a broad topic that encompasses perspectives on everything from abortion to the Israel–Palestine conflict.
"The goal of the workshop was to help faculty identify ways to develop rigorously academic environments that encourage well-rounded discussions by creating a safe space for all students to participate and express their views," Thurber said.
Steps faculty can take to accomplish this include assigning readings that present multiple, evidenced-based perspectives; make sure their own comments relate to the course; and if certain students are regularly reluctant to participate in class discussions, find out why.
"It may be that they are just quiet people, or it may be that they feel they cannot speak out because their political views differ from those of their classmates," Thurber said.
A Campus Wide Effort to Hear Diverse Voices
During the retreat, faculty members viewed a short film titled "Student Voices," in which several AU students—including a student veteran, a student with an invisible disability, and several students of different ethnicities—discussed their personal experiences on campus.
"The film illustrated for faculty that there are so many more dimensions to diversity than race and ethnicity," said Aw, who produced the video with Matt Fredericks, director of university video.
"It was the most-cited event," Stallings said. "Faculty were overwhelmed by the students who articulated their own personal concerns about diversity and inclusion. Many kudos go to the students who agreed to participate in this video."
Stallings says plans to continue to build on the success of the faculty retreat include holding discussion sessions to further explore lingering issues and convening a focus group with populations of students to get a better idea of campus climate and inclusion.
The university is taking additional steps to make the entire AU community more mindful of diversity and inclusion. Human Resources has added a certificate in Building Commitment to Diversity and Inclusion to its professional development offerings to staff. The School of International Service recently hosted a forum for its faculty, staff, and students to discuss ways to improve upon diversity and inclusion. At the beginning of the fall semester, the Office of Campus Life launched the Center for Diversity and Inclusion, comprising the GLBTA Resource Center, Multicultural Affairs, and the Women's Resource Center.
The Lighter Side of a Serious Gathering
While the retreat's focus was serious, faculty members also had the opportunity to unwind, whether through yoga, exercise, during a dinner featuring a Faculty Musical Review, or during a Faculty Social hosted by the Faculty Senate. Musical Review performances included those by Karen Froslid Jones, director of institutional research and assessment, and Anthony Varona, associate dean for faculty and academic affairs at the Washington College of Law.
Peter Starr, dean of the College of Arts and Sciences; Jack Rasmussen, director and curator of the American University Museum at the Katzen Arts Center; and Matthew Weiner, computer and audio services coordinator at the Katzen, provided musical entertainment at the Faculty Social.
"Faculty cited the importance of being able to meet other faculty whom they would normally not get to meet," Stallings said. "Some collaborations between such faculty have been established as a result of our faculty retreats."