Government and Politics
1934-2009: School of Public Affairs Born in Era of Challenges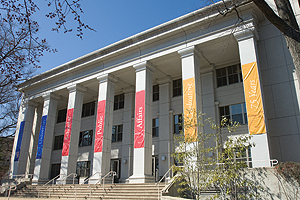 The School of Public Affairs was born in response to a national crisis. Seventy-five years later, the school that began with classes held in old row houses near the White House has grown into one of the top schools of public affairs in the nation. Its story is, in many ways, the story of Washington, D.C.
Practical idealism
The capital city in 1934 was on a roller-coaster ride of anxiety and optimism. A quarter of Americans were out of work, and some were so desperate they were selling apples near the Capitol. But at the White House a new president, Franklin Delano Roosevelt, had promised "a New Deal" for Americans.
No one knew if the plan would work. It was changing the scope of American government and would need to be implemented by leaders who did their jobs well.
As Roosevelt put his signature on the New Deal legislation, a program was being born at 19th and F that would train many of the people who were part of this untested, pioneering plan.
It had been launched by a small but forward-thinking university whose main campus was in the pastoral setting of Tenleytown, past the end of the trolley line. But AU's graduate students came to class downtown, and the program was in large part the brainchild of one of them—with the blessing, as it happened, of the president of the United States.
Arthur Flemming, MA '28, had graduated just in time to put his degree in political science to use as a reporter, covering a Washington filled with breadlines, protest marches, and Hoover policies that weren't working.
When Roosevelt was elected, Flemming believed his alma mater could be part of the new president's vision. Not yet 30 years old, the alumnus won AU the grant that started it all: $4,000 from the Rockefeller Foundation, about the price at the time of a midsized house.
Training federal workers
At the beginning it wasn't called SPA. It wasn't even a full school; it was simply a program to train federal workers in the techniques they'd need to make the New Deal a success. But it was in the right place, at the right time, and had the support of the right people.
One was Roosevelt himself. He was impressed by the undertaking, as he made clear when he spoke at the event that launched the program.
"Among the universities," he told the gathered students and faculty, "American is yet young. But you have a great future—a great opportunity for initiative, for constructive thinking, for practical idealism, and for national service." Roosevelt promised that this new initiative would have the "hearty cooperation" of all branches of his administration.
It had more than cooperation. It had a flood of applications from hundreds of federal employees competing for the 80 slots in the first semester. Only a few months earlier, Roosevelt had signed the orders founding the first crop of New Deal agencies, and SPA's first students were getting those fledgling agencies underway.
"The New Deal brought modern federal government to Washington, D.C.," says SPA professor Jim Thurber. "Agencies really were born and expanded as a result of the market failure, and that brought a lot of people here, which brought a great demand for education. Many had come into the government with English majors and just started working. So they went back to school, many times at night."
Two hundred students packed the converted parlors in the row houses for the second semester, eager to learn the latest ideas and take them back to their New Deal jobs. By 1937, more than 1,000 federal employees were studying at SPA, and undergraduates were clambering for the classes as well. The school answered by launching an undergraduate program.
It would grow with the city. "Once the size of Washington expanded, it never contracted," Thurber says, and that was true of AU as well.
Small and specialized before World War II, the program was inundated after the war's end by combat veterans in their 20s who knew what they wanted: to continue serving their country in peacetime. "AU was a pretty small place before World War II. It really expands greatly with the returning servicemen," says SPA dean William LeoGrande. And at AU, "a lot of them did go into public affairs."
Still in a small town
The Washington for which these students were preparing was a different place than the Washington of today. John F. Kennedy quipped that it was "a city of northern charm and southern efficiency."
When Howard McCurdy arrived as a young professor in the 1960s, "It was still a small town. There was a horse farm inside the Beltway on River Road. Politics was very personal and informal, and that was reflected in the school."
Faculty still shuttled back and forth on the bus from the graduate classes near the White House to undergraduate classes scattered around campus. The Metro didn't exist yet; neither did the Ward Circle Building, now SPA's home.
SPA's students were passionate about politics, but more vague in their goals. The era of the "policy wonk," McCurdy notes, had not yet arrived. Washington was a city of politicians and federal employees, but not yet a city of policy experts, consultants, and think tanks.
"Politics was an old boy's network, and there weren't many girls in it. It was very informal. If you wanted to get something done in this city, you picked up a phone and called up [Sen.] Warren Magnuson [D-Wash.]. He used to sit there at his desk and say, 'I want a dam,' and he'd get one. It wasn't really studied. People kind of got what they needed.
"The style was more informal and jovial. That was true on Capitol Hill and true on campus," he says. "A lot of the students who came here wanted to go into it, or at least brush alongside it on the way to law school."
Some brushed alongside the nation's leaders right at SPA, where they might be sitting in the next chairs. Many graduate students, going to class downtown as they did until the late 1960s, were much like those in the New Deal era: policy makers learning on the job.
McCurdy tells of the fellow professor who once asked his class, "How many of you have experience in budgets?"
Many hands went up, so the professor asked one of the students at random where he'd dealt with budgets.
"Well," said the student, "I'm the assistant secretary for budget and finance at HEW." He had risen almost to the top of the Department of Health, Education and Welfare, a cabinet-level government agency, without studying budgeting formally. "The situation was almost the reverse of today," McCurdy says. "You got a job, learned how to get things done, and then you got educated."
Time of turmoil
But Washington was about to change, and so would SPA. If the school was born from the crisis of the 1930s, it would come of age in the tumult of the 1960s.
The era began in a wave of idealism. "Kids were thinking about the Peace Corps, getting involved in the war on poverty, the public health service," McCurdy recalls. "They didn't view it as being bureaucrats chained to a desk. There was a real attraction to public service, to working for the government as a place where you could really get something done."
"Part of what went on in the '60s," LeoGrande says, "particularly with Johnson and the Great Society, was an expansion of people's sense of what government ought to do in terms of taking responsibility for a variety of social and economic problems and trying to solve them. There was more faith than now in the ability of government to solve those problems."
Then as now, students interned on Capitol Hill, working with lawmakers during a time that saw the birth of Medicare and Medicaid, federal education funding, the National Endowment for the Arts, environmental legislation, and a long list of acts and programs to address racial injustice and poverty. Ultimately many SPA alumni would find careers in agencies, nonprofits, and institutions that had their roots in this expanded sense of what government should be trying to do.
But first, attention turned to something else: the Vietnam War. Protesting in Washington was something that AU students could do as often as they liked, by going downtown or just stepping outside and waiting for policy makers to pass on their evening commutes. They took full advantage of the opportunity. "They used to go out and block the evening rush hour. It was our way of ending the war," McCurdy recalls wryly.
One of SPA's students at the time was future AU president Neil Kerwin. But for all their street rallies and signs, he doesn't recall the students of his generation as profoundly different from the AU students of today.
"The students I interacted with then were all very engaged about the war, but that's not to say it was necessarily a more involved or activist student body than today. It really wasn't. The current student body strikes me as every bit as active, as engaged in world affairs, in social justice—and to be frank, a bit more cosmopolitan, more worldly, and more sophisticated in how to accomplish things," he says. "But the issues were more narrowly focused then, because of the turmoil related to the war."
And tumultuous it was. The turmoil affected everyone, even those who weren't inclined to protest. Graduate students now came to class on main campus, in the new Ward Circle Building, which meant they sometimes had to run a gamut of protesting undergraduates to get to campus. Tear gas even wafted into the classrooms.
Once the sting of tear gas made it so hard to hold class that the students called it a night and headed for their cars. They were promptly charged by riot police who, says McCurdy, "thought this was a new wave to take over the circle."
In fact, the students were police officers enrolled in a professional training program in the Department of Justice, Law and Society. They had almost been arrested by their own colleagues.
Professional class
The next four decades would find less drama on campus, but many changes in the scope of government and nature of Washington.
"The practice of politics has changed dramatically," Kerwin says. "It's highly professional. Congress still performs the same constitutional roles, but it's organized differently. The practice of advocacy for interests has grown immensely more sophisticated. And we've seen an explosion in the role of government agencies that write far more important laws today than Congress does."
SPA's Center for Congressional and Presidential Studies has taken on precisely that issue with its scholarship and teaching, its Campaign Management Institute and its Public Affairs and Advocacy Institute. When Thurber began the center in 1983, it was unique in the United States. Many of SPA's students with an interest in politics had always volunteered on campaigns, but as politics professionalized, SPA was on the cutting edge with its own systematic approach to teaching the business of politics, and with the high visibility of its panels and forums where leaders engage in dialogue with each other and the AU community.
"My joke is that every student body president is watching C-Span over Christmas and they see our Campaign Management Institute and they want to come here," Thurber says. "I'm not kidding. They do say that."
Another center that places SPA squarely in the midst of political power is the Women and Politics Institute. Most of Washington's most prominent women have links with the institute, from Sen. Hillary Clinton to Rep. Nancy Pelosi to dozens of others. Targeted academic programs on women, policy, and political leadership are helping to foster the next generation of women leaders.
The intensity of SPA's engagement is possible because of its Washington location, but that in itself wouldn't be enough, LeoGrande notes. It's really the culture of the school itself. "We attract the same kind of faculty member as student—people who are engaged in public affairs writ large."
75 years of impact
Seventy-five years after SPA was founded to help the government meet the challenges of the Depression, "the accumulated weight and impact of the scholarship it has produced is extraordinarily impressive," Kerwin says.
But perhaps its greatest impact has come from the tens of thousands of students who have passed through its doors, many of whom have gone on to become leaders in Washington, across the nation, and around the world.
Year after year, SPA ranks among the country's top schools of public affairs. It's come a long way since classes were held in converted parlors downtown.
Yet there are parallels. "We now find ourselves at another point in history where we have to turn to government to solve a profoundly dangerous set of problems," Kerwin says. As it looks toward its next quarter century, SPA is poised to participate in a time of new challenges. "I see a robust role for government over the next 25 years," Kerwin says, "and there is going to be a robust role for preparing people for public service."
Once again, the nation is looking for people of high caliber to make the right decisions in difficult times. For the people of SPA, that's a challenge they're prepared to take.