On Campus
AU Bucks National Student Debt Trend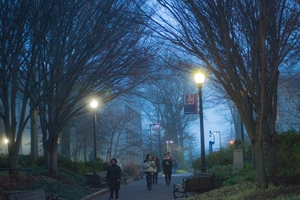 Nationally, seven in 10 students who graduate from four-year colleges and universities do so with loan debt and their average debt levels rose in 2012, according to the Project on Student Debt.
But at American University, only four in 10 students graduate with loans and the average debt for AU's Class of 2012 declined 8 percent from the previous year.
During the past four years, the national average for loan debt has risen 25 percent. But AU student debt levels have actually declined 15 percent during the last five years AU's drop comes amid the university's concerted efforts to improve affordability and increase financial aid.
In February 2013, AU's trustees approved the lowest tuition increase on record for the next two fiscal years and increased the amount of tuition revenue dedicated to financial aid from 29 to 30 percent. The university also shifted financial aid resources from merit to need-based aid. This academic year, 71 percent of all aid expenditures went to need-based aid.
In addition, AU has worked to improve financial literacy among its students, prospective students, and their families by facilitating access to U.S. Department of Education tools that help those considering private loans estimate their monthly post-graduate loan payments before they add to their total debt. As a result, fewer AU students are choosing to take on private loans and their overall debt levels from these sources is lower.
Historically, AU graduates have been able to pay the amount they owe, with a three-year default rate (2.9 percent) far below the national average (13.5 percent). This may have something to do with strong outcomes for graduates. Within six months of graduation, nine out of every 10 AU graduates are working, enrolled in graduate school, or both—a testament to the value of an American University education that is underscored by AU's recent inclusion in Kiplinger's 100 best values in private universities.
Still, the university recognizes more can be done to help students and their families make better financial choices. Although more than half the graduating class leaves AU with zero debt, those who have chosen to take on loans still owe slightly more—$2,349 than the national average for graduates of private non-profit universities.  
Encouragingly, early indications for the AU Class of 2013 are that debt levels continue to decline and, for the first time, will be below the national average.
"We are doing everything we can to ensure students do not leave here with debt that impairs the quality of their lives," said AU president Cornelius Kerwin. "Through a combination financial aid, financial-literacy education for students and their families, and strategic efforts to minimize increases in tuition and fees, we are advancing toward that purpose."