Government & Politics
Political Wonks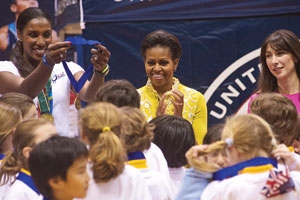 "Moving isn't just being part of a sport. Moving can be dancing in the living room, it can be riding your bike, it can be walking your dog."  —First Lady Michelle Obama, who was joined by Samantha Cameron, wife of British prime minister David Cameron, for a mini-Olympic competition for her "Let's Move!" campaign, March 13 at Bender Arena. Obama and members of the U.S. Olympic and Paralympic teams shot hoops and played tennis with 60 Washington area schoolchildren during the event.
"I have no problem with strong women. I was raised by one, I married one, and I believe we're raising two."  —Former president George W. Bush, who introduced both his wife and his mother at the March 5 first ladies conference, one of a series of events at the three Texas presidential libraries. The series is the brainchild of School of Public Affairs executive in residence Anita McBride.


"There are no good jobs for a high school dropout. Four-year universities, two-year community college, trade and vocational training, that has to be the aspiration for every young person."  —Secretary of Education Arne Duncan led a frank discussion on education reform with New York mayor Michael Bloomberg, Los Angeles mayor Antonio Villaraigosa, and Chicago mayor Rahm Emanuel, March 1, at the Katzen Center for the Arts.
"I loved to call Barb and commiserate about certain reporters."  —Former first lady Laura Bush on journalists who were critical of her husband. Laura Bush spoke at "First Ladies: An Enduring Vision," an AU-sponsored conference at the George W. Bush Presidential Center in Dallas.
"It was the women's movement that put the movement in me."  —Former Maryland congresswoman Connie Morella on how lobbying for the Equal Rights Amendment sparked her interest in public office. Morella is ambassador in residence in the School of Public Affairs.