Achievements
Stephen Bronskill Named President's Award Winner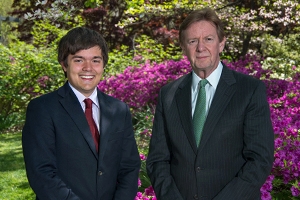 From his first few days on campus until now, Stephen Bronskill, from Seattle, has done more for the campus and the Washington, D.C., community than most people ever could dream of doing. 
At only 21, the senior's resume is longer than most people's twice his age.
"Stephen exemplifies the idea that when you're passionate about something, time expands," said Assistant Professor Margaret Marr, director of the School of Public Affairs Leadership Program, of which Bronskill is a part.
Bronskill isn't just passionate about one thing. He will earn two degrees upon graduation, one in environmental science and one in political science. His interests span many disciplines including democracy, environmental sustainability, leadership, and public service.
As the winner of the President's Award, Bronskill will receive American University's highest undergraduate honor during commencement.

While at AU, Bronskill also won a national Udall Scholarship for his commitment to environmentalism and he was a national finalist for a Truman Scholarship for public service. 
In addition to the President's Award, Bronskill will also receive the Stafford H. Cassell Award for his dedication to the university during commencement weekend.
A Natural Leader
Talk to anyone who knows Bronskill and they will tell you the same things about him. He's motivated, engaging, a natural leader, and a community builder. This began even before he first set foot on campus.
In 2008, Bronskill, who was born in Toronto to Canadian parents, volunteered for Barack Obama's presidential campaign. It was his first taste of national politics and the enthusiasm surrounding then candidate Obama helped plant a seed.
"In 2008, I was seeing what we're capable of," Bronskill said. "I still feel a lot of the themes of that time resonate now."
As a freshman, Bronskill took part in the SPA Leadership Program, which helps identify young leaders. He was also part of University College, where students live and take seminars together, as well as participate in community learning experiences. Associate Professor of Environmental Science Kiho Kim first met Bronskill through University College.
"He was one of those students whom you know right off the bat is special," Kim said. "It was clear right from the beginning that his level of thinking was very mature, like a senior or a grad student."
During that first year, Bronskill also participated in the College Democrats and Eco-Sense, a student environmental club that Bronskill would become president of. 
He also found time to intern with the environmental justice organization, Groundswell. It's one of a handful of internships Bronskill has had while at AU.
"The beauty of being in D.C. is that there are so many organizations that need interns for things," he said. "This city is a laboratory."
It was in his freshman year that Marr, clearly impressed with Bronskill's drive, took him to a leadership conference at the U.S. Naval Academy. There, Bronskill listened to journalist Tom Brokaw talk about the need for civilian leadership academies not unlike the service academies.
Brokaw's speech ignited a fire in Bronskill and as a part of a project for the SPA Leadership Program, he instituted the Community Service Coalition on campus. The coalition includes about 40 campus groups. The CSC allows them to draw from each other and make use of varied resources for community service projects.
Bronskill served as the director of the CSC for a year and then turned over the reins to another student. Today, the CSC is still active and an important part of the campus community, which is a testament to Bronskill's work with the coalition, Marr said.
As part of the SPA Leadership Program, Bronskill interned at the White House during his junior year. He worked in the Visitors Office, which processes requests for tours. The experience was intense and time-consuming, but worth it.
"It was an amazing opportunity to see public servants at work," he said.
The following semester, Bronskill, encouraged by professors like Marr and Kim, went to Pune, India, with AU Abroad. He wanted to understand global environmental issues and India, with its rapidly expanding economy and population, seemed the perfect setting.
When he returned from India, Bronskill went to work for an organization called The Washington Bus, which helps young people in Washington State get involved in the political process. Because of his time at AU, Bronskill is more interested than ever in politics, he said.
"Here I saw the political and environmental realms coming together. I'm interested in the intersection of the two," he said.
Giving Back
Bronskill has accomplished much while at AU, but he is quick to acknowledge all the support he's been given along the way. From Kim to Marr to Assistant Professor Simon Nicholson, who teaches global environmental politics, these professors and others have guided him as he's blazed his path.
Bronskill views his final year at AU as a chance to give back to the programs that have helped him during his time here. As such, he has been a program assistant in University College, as well as the student director of the SPA Leadership Program.  
After he graduates, Bronskill is headed to the Mississippi Delta region to teach ninth grade biology through Teach For America. He first got a taste of teaching during an SPA Leadership Program project with a nonprofit that served African American boys in Wards 7 and 8.

"I want to learn how the policies I've learned over the last four years actually affect people," he said. "The opportunity gap in education is one of the biggest social justice issues."
Doing Teach For America is just one of the many things, Bronskill said he never thought he'd have a chance to do, but AU made a reality.
"AU really empowers students to figure out what it is they want to do," he said.