Research
How Iconic Ads Changed America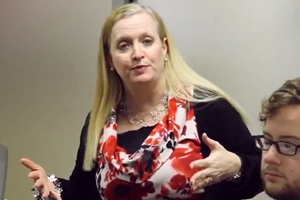 Even when elbow-deep in musty archives in leaky basements, School of Communication assistant professor Wendy Melillo had fun researching her new book, How McGruff and the Crying Indian Changed America: A History of Iconic Ad Council Campaigns, out this September.
Her deep interest in public service advertising (PSA) campaigns led Melillo to write her new book, which details how some of the Ad Council's PSAs became part of the national conversation and changed society. Adding to the campaigns referenced in the title, the book includes chapters on the Ad Council's most famous characters such as Smokey Bear and Rosie the Riveter.
"I want to analyze the organizations the public knows very little about," Melillo said. "I was always fascinated by the Ad Council, and I wanted to know how it operated behind the scenes. I covered this organization for years, and I really thought I knew it, but I didn't."
Beginning as a propaganda arm of the Roosevelt administration in 1942, the Ad Council evolved and took on important issues to America throughout the 20th century. The book discusses challenges to and influences on those campaigns by the media, government, and business itself, all in the context of pivotal moments in U.S. history.
Melillo's background as a journalist contributed to the clear and unabashed writing in the book. She wrote the book in this style to attract a wider audience, including younger generations of digital natives. As a testament to the Ad Council's rich history, Melillo felt it was vital to use the print medium as the book's primary method of communication.
Melillo's career as an investigator hasn't stopped during her time at SOC. The former Washington Post writer and D.C. bureau chief for Adweek, never knew what little-known stories about an organization she might uncover when she opened dusty boxes full of old and fragile documents.
"You know it when you see it," she said. "I was looking for the stories that were paradoxical, or that sparked curiosity." This curiosity led her to, in her words, "reach in and discover a mystery no one knew about."
For this book, she fused her journalist's investigative skills with a more methodical and time-intensive approach, cultivated in academia, for what she felt gave the strongest possible edge to the book's research.
"It was only after spending time at six different archives around the country and exploring what the academic literature said did a clearer picture of the Ad Council emerge," Melillo said. "Working journalists on deadline will look at what other mainstream publications have written about an organization, but they rarely have the time to do this more extensive type of research."