Government and Politics
Conference Marks SPA 75th Anniversary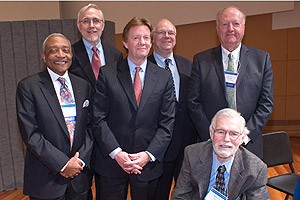 In the midst of an economic crisis unparalleled in American history, President Franklin Delano Roosevelt came to American University in 1934 to celebrate the creation of what is now the School of Public Affairs.

Seventy-five years later, in eerily similar times, James Roosevelt Jr. followed in his famous grandfather's footsteps, speaking during the opening of a two-day conference marking the anniversary of SPA.

"It's clear that the work of the [School] of Public Affairs has never been more relevant to the work of the nation," said Roosevelt, who went on to quote from FDR's first inaugural address. "He said, 'This nation is asking for action, and action now.' This is where the students and faculty come in."

The event's opening panel, on March 26, included SPA dean William LeoGrande, and former deans Neil Kerwin, Robert Cleary, A. Lee Fritschler, and Walter Broadnax.

"Seventy-five years ago, [AU] began the School of Public Affairs with just a handful of graduate students," LeoGrande said. "Today we have some 2,000 students in 13 programs, both undergraduate and graduate."

Lee Fritschler now is a professor of public policy at George Mason University. When he arrived at SPA 45 years ago, the school was located just a few blocks from the White House.

"When I arrived here in 1964 as an instructor, the AU I came to was quite a different place than the AU you all know today," he said. "We saw this school grow a lot in the 15 years I was here. We expanded Washington Semester, we created executive programs, and I think what we were doing was building the basis for the great success of SPA today."

President Kerwin credited much of his personal success to his time at SPA as both a student and faculty member. He drew parallels between SPA's rise and the burgeoning reputation of the university as a whole, and pointed out that much of the institution's leadership, on both the student and faculty levels, has stemmed from SPA.

"You want a school that elevates the reputation of the institution," he said. "We've done that in SPA in a variety of ways. Number one is seminal scholarship, scholarship that has had a transformative effect on fields.

"As a university president, 13 years removed from my last day as dean of the School of Public Affairs, I can't afford to be romantic," Kerwin said. "My responsibility is the overall health of this institution. I think at this juncture in SPA's history, [those] of us who have been privileged to be associated with it can take great pride and be extremely hopeful in its future."

First-day speakers also included former U.S. comptroller general David Walker, and former assistant health and human services secretary Peter Edelman. The focus on March 27 shifted toward policy, and included panels on government oversight, immigration, elections and campaigns, climate change, regulation, and terrorism.