On Campus
"Relax!" Counseling Center Says Calmly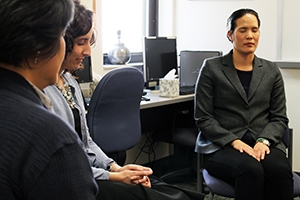 Keep Calm and…

Charisse Hipol, Amanda Rahimi, and Ana Buenaventura want you to relax already. As staff clinicians in the university's Counseling Center, the three take students' relaxation seriously.

That's why, for the first time ever, they're offering free and open drop-in workshops each week on how to lower stress levels.

You don't have to be a patient at the center. You don't have to sign up for anything. You just have to want to relax.

"We wanted to provide something for students where they could have a resource to learn about stress and relax without having to be on-going clients here," Hipol said.

The 45-minute group workshop meets every Wednesday at 3 p.m. in the center, and the semester's last session will take place during finals week on December 11. For the packed AU student schedule of classes, internships, work, and the like, Rahimi knows that the time commitment for the workshop is just that: a time commitment.

"A lot of students sometime think, 'Oh, I'm spending 45 minutes at this group that's taking away from my classwork,'" she said. "By relaxing, you're actually going to be more productive, focus better, and feel better. ... It's time well spent, and you can actually save that 45 minutes because you'll be more focused afterward."

Soothing Options

The workshop features every kind of relaxation technique, from deep breathing and mindfulness exercises to visualization and stretching. It's a variety of exercises to suit the varied AU student body.

"Everyone has individual preferences as far as what helps them with stress," Hipol said. "So, this offers them a wide array of options to choose from."

Still, Buenaventura wants to students to know that the workshop's nothing too intense; it's simply a space to unwind, get refreshed, and learn routines to repeat day to day.

"We just really want students to have something they can do even in class or just before a final, that just a few minutes can help them decompress and decrease their level of stress," she said.

Aside from relaxation, the Counseling Center offers a number of workshops and groups focusing on relationships, overcoming procrastination, stress management, international student needs, issues related to diversity and multiculturalism, depression, and sleep. They're even starting a men's group for anyone who identifies as a man to discuss, well, anything.  

And these services aren't just in-house, Rahimi and the team will take workshops on the road to residence halls and student groups, as requested.

"We're good at tailoring our services to what students need," Rahimi said. "We'll do anything, as long as people show up."

Warm Welcome

On the topic of showing up, Hipol also has a message for students who might be uncomfortable about visiting the center's group offerings.

"Everyone struggles. It's a part of humanity that we all are struggling with something. What's nice about our groups is that there's a window to see you're not alone in that," she explained. "If people weren't struggling, we wouldn't have jobs. This place wouldn't exist. We wouldn't serve over a thousand students."

So, as finals roll around, know that the Counseling Center's doors are open to all AU students for a truly calming experience, and that's nothing to stress about.

"We're trying to meet people midway, to offer a space to relax," said Buenaventura. "Don't we all need that space?"




For more specifics on workshops and groups, visit the Counseling Center's site.