Research
CHRS Team Attends 2nd International ASSHH in Paris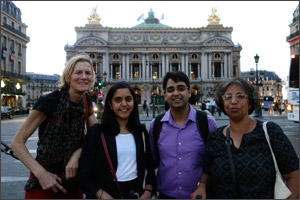 The Center on Health, Risk, and Society (CHRS) team, including Director Kim Blankenship, Assistant Director Monica Biradavolu, Research Manager Nimesh Dhungana, and our India collaborator Annie George, presented papers jointly on a panel at the 2nd International Association for the Social Science and Humanities in HIV (ASSHH) conference held in Paris, July 7-10, 2013.

ASSHH "is an international membership organization that promotes and supports critically informed and theoretically engaged social science and humanities research on HIV/AIDS. We are committed to generating, supporting and distributing social science and humanities scholarship, promoting dialogue and networking within our disciplines and between them and the larger scientific community, and training emerging social science and humanities scholars in academic and non-academic settings."
The association "emerged to address concerns among social science and humanities scholars that our work had been ignored by international agencies and funders of HIV research, and was poorly understood by many biomedical colleagues thirty years into the global HIV/AIDS epidemic. It had become apparent that the exclusion of the important contributions of social science and the humanities in major HIV conferences, in publications with a significant readership on HIV/ AIDS, and in key international policy forums was having a detrimental impact on the effectiveness of responses to the epidemic." 
The ASSHH conferences, the first of which was held in Durban, South Africa in 2011, were organized to provide a space for social science and humanities scholars to share their work and develop collaborations on topics of common interest.

Based on AU's Project Parivartan the CHRS team panel was entitled Community Mobilization as HIV Prevention: Lessons from the Avahan India AIDS Initiative.

Dhungana's paper "Multiple Processes and Outcomes of Community Mobilization: A Case of Avahan," was a systematic review of analyses of community mobilization processes and impacts that discussed some of the key outcomes associated with successful community mobilization. Using eight years of ethnographic field data, Blankenship's paper, titled "Sex Work as Work: Mobilizing Female Sex Workers for HIV Prevention in India," analyzed how workplace organizing, as reflected in the language of "sex work as work," provided a critical framing to both facilitate and constrain community mobilization efforts to achieve health impacts as well as broader social change goals. George analyzed ethnographic data collected from three districts to contrast the role of peer educators in community mobilization interventions and more traditional HIV prevention interventions in her paper, "Peer Educators in HIV Prevention: From Community Organizers to Outreach Workers." Finally, Biradavolu's paper, "Monitoring, Enumerating, Creating Sex Workers Through Community-based Monitoring," showed how monitoring is not a neutral process. Enumerating 'target populations' in an HIV prevention program led to the construction of categories of female sex workers that did not take into account the fluid nature of sex work in the region and resulted in a struggle between increasing bureaucratization of peer outreach work and continued efforts at mobilization.