Alumni
Basketball Teams Shine Under New Head Coaches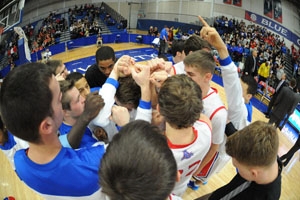 Both AU basketball teams have new coaches this season. Both came out strong in Patriot League play. And, both take second place spots in the Patriot League and 11-3 conference records into games against Boston U. Wednesday night. 
The men's team started the season with an 11-game win streak, going 10-0 in league play – and attracting a great deal of attention along the way. "Our expectations have been high since day one," said sophomore guard Jesse Reed. "We knew what kind of team we had, even though we may not have gotten a lot of credit."
On Saturday, for the first time in eight straight games, the Eagles did not shot over 48 percent from the field. They came into that contest ranked number one in the nation in field goal percentage. "We're working to get back into the groove – hopefully back on a win streak," Reed said.

Travis Lay, Kogod/BSBA '08, who led the AU men's basketball team to its first ever NCAA tournament appearance in 2008, says that it's exciting to watch Coach Brennan and this year's squad. "One thing is clear from watching the 2013-14 men's basketball team: Mike Brennan is a special leader and we are fortunate to have him," says Lay.
Lay also encourages alumni to get out in support of the Eagles. "Next time you go to a game, watch how engaged the players on the bench are," he says. "They are into the action and understand the team concept… Mike Brennan has the potential to build American University basketball into a destination in D.C."
After tonight's game at Boston, the Eagles will host Army Saturday at 2 p.m. in Bender Arena. Reed says that having big crowds for their games makes a huge difference. "We've been getting great turnout. It gives you an adrenaline rush. When you do something well and see the crow going nuts, it picks you up and makes you want to play even harder," he says.
The women's team is on a streak of its own, picking up a fifth straight win on Saturday, when they hosted Lafayette for both senior and alumnae day. "It feels really great to get the win for the seniors," said first-year Head Coach Megan Gebbia. "It's just nice that we continue to beat the teams that we feel like we should beat and are doing it as a collective team. It's been different people stepping up and reaching double-figures each game."
The women's team has an overall record of 18-7 and will host the Boston University Terriers at Bender Arena Wednesday at 7 p.m. The game will also be broadcast live on the Patriot League Network.