Alumni
Alumna Using Start-Up to Introduce Raw Food Movement to Qatar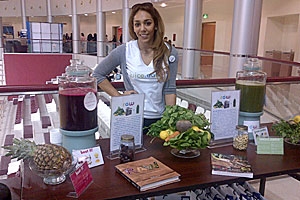 Raw food doesn't just mean sushi, and a salad can be more than a few pieces of wilted lettuce on the side of a plate. These are ideas that Layla al-Dorani, BSBA '07, tries to teach to Qataris every day through her new company, Raw Me.
"The concept of raw food and being vegan is completely foreign in the Middle East," al-Dorani said. "I've even met [people] who think being a vegetarian means I still eat lamb."
Reaching Out
Al-Dorani, who holds dual citizenship in the U.S. and Qatar, began the process of starting her raw food and juice store, Raw Me, in January 2012.
"Nobody in Qatar looks at nutrition. We're one of the richest countries in the world and yet nearly 75 percent of our population is obese and diabetes affects most adults. I want to help change that," she said.
Raw Me is still taking root, providing raw fruit and vegetable juices to a few major hotels in Doha, participating in Qatar's more frequent health and wellness outreach days, and growing an online store.
"Starting a business in Qatar is a very slow process so for now I'm working through the red tape and just trying to educate people where I can," al-Dorani said.
Getting Off the Ground
In addition to the challenge of changing cultural perceptions of food, al-Dorani is facing the logistical difficulties of starting a small business in Qatar. Requirements to have a physical business location and a licensed, professional kitchen are hurdles she must surpass.
A business license alone, which is the first step to starting any operation in Qatar, costs 200,000 riyals, or approximately $55,000 U.S. Add to this the cost of a commercial space, insurance, equipment and potential staff and it adds up.
To help fund Raw Me, al-Dorani has been competing in, and winning, several small business competitions throughout the region. She has also depended on friends and family to staff events and help in the kitchen.
Moving Forward
As Qatar advances in its goal of improving the wellness of its people, al-Dorani and Raw Me plan to be at the forefront. Through participation at national events like the recent National Sports Day and Run the World Festival, the message of raw foods and healthy living are reaching the people.
"It's incredible to…show what goes in our juice, and have kids not be able to identify a beet," al-Dorani said. "I love knowing that when they go home for the day they know a little bit more."
In addition to her Kogod education and an online certification in nutrition, al-Dorani hopes to earn her teaching certificate in the near future and publish a book on starting an independent business in Qatar.
"I want to keep helping others, especially women and entrepreneurs, that's what I've always wanted to do," she said.