Research
Join an Archaeological Adventure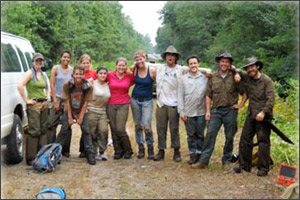 Archaeology students have a unique opportunity this spring to explore the world of maroons—African Americans who disappeared into the Great Dismal Swamp to escape slavery and find a life of self-sufficiency and freedom.
The Fifth Annual American University Archaeology Field School offers five weeks of hands-on, sometimes physically challenging work under the direction of one of the world's leading authorities on historical maroon communities in what is now the United States, Professor Daniel Sayers of AU's Department of Anthropology.
The field school, which can earn students from AU and other universities 3 or 6 credits, runs May 13 to June 17 at the Great Dismal Swamp National Wildlife Refuge, a 190-square-mile site that straddles northeastern North Carolina and southeastern Virginia.
"It's such an amazing opportunity," says Sayers, who in addition to past field schools also conducted dissertation research in the swamp from 2003 to 2006. "You dig down that far [a couple inches] and you're looking at the 1600s."
Students can expect expert training in such areas as:
archaeological surveying and excavation
research design development
laboratory dating and soil sampling techniques
geophysical survey methods to determine what's under the soil
Past research has uncovered a community that learned to survive in a place others thought uninhabitable. Apparently mundane signs and objects—a "stain" left by now rotted away cabins or long-buried fire pits, bits of glass cleverly repurposed into tools—are artifacts discovered on past field schools that provide a glimpse into the world of the maroons.
Few mass-produced objects, other than these bits of glass and some remnants of the ubiquitous clay tobacco pipes of the era, are buried in the swamp.
"There's very little representation of outside world stuff, and a lot of what we're finding is small," says Sayers. "What we're seeing is a direct reflection of this minimal contact, a shadow image of what's going on. They might be bringing in a glass bottle, say. When the bottle breaks, they don't just pitch it. They say, 'Now how can I use it?'"
Those pieces may have become bits of tools for five or 10 other people.
Perhaps most surprising of all was the discovery of artifacts that date back thousands of years, stone objects in the classic arrowhead shape, discovered by the maroons and reshaped into tools for their use. So a seventeenth- or eighteenth-century maroon might find an arrowhead after its creation by indigenous people who lived in the swamp thousands of years before him and turn its edge into a knife.
"They're going out there saying, 'Forget that world outside. We're going to use what the swamp offers us.' And one of the things is this ancient stuff that ancient people brought in."
The Dismal Swamp maroons, subject of public television documentaries and news articles, will be featured in a display at the Smithsonian's National Museum of African American History and Culture, the museum's founding director, AU alumnus Lonnie G. Bunch III, CAS/BA '74, MA '76, noted in a New York Times article.
Solving a mystery
One of the great mysteries of the Great Dismal Swamp maroons is why their community shrank considerably by 1800.
Solving that mystery, and discovering the results of that shrinkage, will be the focus of Sayers and the archaeology students who join him this spring. Some clues have turned up in recent digs: discovery of the first iron nail, lead shot, bits of gun flint—signs of increased contact with the outside world.
Sayers speculates that the use of slave labor in the swamp during the 1800s to dig canals and for logging led to the shrinkage of maroon habitations, which may have numbered 1,000 or more in the years before the Great Dismal Swamp shrank to a tenth of its original size.
"In the Western European mindset, folks saw this as desolate wasteland," Sayers says. "No one could possibly live there. So there's sort of a blind spot in the system." The maroons' creating a life of freedom "involved no violence; they simply walked away from it because they knew how to read the landscape" and figured out how to survive.
An application and information on the field school is available online. Applications are due by April 1.