Government & Politics
Olympia Snowe Tackles Political Partisanship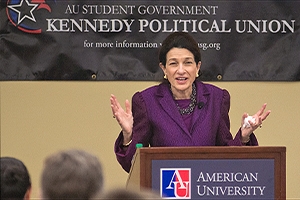 Citing political intractability and a lack of bipartisanship as reasons for her retirement, Republican Senator Olympia Snowe left public service with a heavy heart a year ago.
This week, Snowe spoke at American University about the state of American politics in her first speech since she announced her intention to leave the Senate.
"I decided to take the fight in a different direction," she said. "What better place to start than American University?"
She told the audience at the University Club that AU held a "very outstanding place in heart" because many of her interns over the years had been AU students. Then she urged the crowd to get involved in the national political discourse.
"We need each and every one of you," she said.
During her hour-long address, Snowe spoke truth to power, criticizing current lawmakers for caring more about reelection than the country's future and for cleaving to party lines rather than embracing compromise.
"The fact is, people are fed up with harsh rhetoric and partisan bickering," Snowe said. "Policymaking has devolved into a series of gotcha votes. It's all about campaigning anymore and not about governing."
The event was hosted by the Kennedy Political Union and the AU College Republicans.
Snowe, a slight woman wearing a deep purple blazer, began her talk with a story about the time she was asked to christen a ship at a shipbuilding facility in Maine. She was given a bottle of champagne and told to hit the bottle squarely against the hull. She took a swing and missed the ship entirely.
"I whiffed it. Nothing but air," she joked.
She attacked the ship again, making contact, but failing to break the bottle. On her third try, she connected and champagne sprayed everywhere. The experience serves as a metaphor for the situation she finds herself in now, she said.
"It shows that things won't always go the way things are planned," Snowe said.
She didn't intend to leave the Senate so soon. But as a moderate Republican who often took the lead in pushing centrist legislation and bringing together members of opposing parties, she was a dying breed. When examining voting records in the Senate, there are no senators who could be considered moderate, she said. She likened her role as a moderate senator to being on the TV show, Survivor.
That increased polarization is what prompted the Maine policymaker to leave.
"Unfortunately, I do not realistically expect the partisanship of recent years in the Senate to change over the short term," Snowe said in a statement announcing her retirement. "So at this stage of my tenure in public service, I have concluded that I am not prepared to commit myself to an additional six years in the Senate."
What troubled Snowe most about the march toward an increasingly divided government was the fact that is was happening at a time of great consequence for the nation. In a way, the stakes had never been greater, given the dire economic and financial position of the country.
She left, she said, because she loved the American political institution and wanted to preserve it.

Snowe told the crowd about her early days in politics when bipartisanship was the way meaningful change occurred. She first got into government when she was 26 years old after winning the Maine House seat left vacant by the death of her husband, Peter Snowe. She went on to serve in both chambers of the Maine Legislature, as well as both the U.S. House of Representatives and the Senate.
During her long career in public service, she has born witness to government's ability to do good. She cited her 10-year co-chairmanship of the Congressional Caucus on Women's Issues as evidence.
Working with female lawmakers across the aisle, including her co-chair Rep. Pat Schroeder (D-Colo.), Snowe and her House colleagues were able to make a difference in the lives of women and families. School of Public Affairs Professor Connie Morella, a Republican from Maryland, took over for Snowe as caucus chair.
Snowe continued the talk with an examination of contemporary political challenges, including the debt ceiling, the fiscal cliff, and sequestration. All of these crises could have been avoided if politicians were committed to compromise rather than legislating "by deferral and brinksmanship," she said.

Snowe ended her talk on a positive note, urging the audience to vote for people who were willing to engage in consensus building and compromise. To that end, she announced the formation of her own political action committee called Olympia's List, which will support and endorse political candidates who display a willingness to build consensus.
"I know that Congress can be the solution-driven powerhouse that it once was in the past," she said.