Professional News
NYC Site Visit Trip Fosters Student-Alumni Connections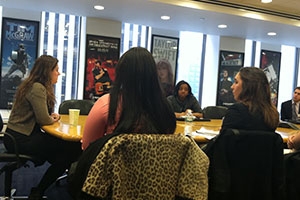 This past January, 72 American University (AU) students had a unique opportunity to explore the inner workings of 23 media and marketing companies in New York City as part of the NYC Site Visit Trip.
Co-sponsored by the Career Center, Kogod Center for Career Development, and Office of Development and Alumni Relations, the trip offers students exposure to different career paths, industry trends, and organizational cultures. At many of the sites, AU alumni meet with trip participants to guide and support them in finding their professional footing.
Jenna Weinerman, KSB/BSBA '08, marketing director at Updater, joined this year's trip as a site visit host, talking with students about working at a startup and highlighting perks such as Updater's casual dress code, an open floor plan that facilitates collaboration, and free lunch on Fridays. 
"As an alumni participant, you have a whole new perspective on the trip," she says. "Having AU students in my office was incredibly special. I will always have a soft spot in my heart for AU and the AU community, so bringing a few students into my daily world was truly exciting for me."
Weinerman first participated in the NYC Site Visit Trip as an undergraduate. She says the experience proved invaluable, and led her to where she is happily employed today.
"It helped me realize that a large company isn't for me—I wanted a smaller environment," she says. "I probably wouldn't have learned something like that if it wasn't for the NYC Site Visit Trip."
Spencer Swan, KSB/BSBA '15, had a similar revelation as a student participant on this year's trip.
"My most memorable moment was walking into Updater after a long week of feeling like I didn't fit in anywhere else," he says. "I walked into their gorgeous office space overlooking the Flatiron district to music playing in the background and a room full of smiling young people who looked totally dedicated to their work. I knew that I needed to work someplace small after that."
He had been considering larger companies as well, but the visit gave him a new perspective.
"The NYC Site Visit Trip changed my career trajectory," says Swan. "After hearing Jenna and Ashley speak about their jobs, I recognized that few employees doesn't necessarily mean little impact. In fact, it usually means the opposite." Ashley Spiro, KSB/BSBA '08, works as a loyalty marketing manager at PetCareRx—a successful startup—and presented alongside Jenna, with whom she and two other AU alumnae share an apartment.
Salena Rochester, SOC/MA '11 and CAS/MAT '09, is a manager of production at Bravo, the NBCUniversal company responsible for popular shows like The Real Housewives and Top Chef. She says her experience as a student was what prompted her to return as an alumna. 
"I remembered how beneficial it was, and I definitely wanted to be a part of it," she says. "There was a huge turnout this year, and the students were amazing. They asked great, insightful questions, and it was interesting to see how the work we do every day is viewed from the outside."
Rochester says she got a lot out of the trip as a student. 
"The site visit showed me that New York was a place I could actually start a career," she says. "I was able to see all of the different options that were available to me."
She says she got started in the NBC Page Program as a result of the NYC Site Visit Trip, and that opened up new opportunities for permanent employment.
Current AU student Nicole Cusick, CAS/SOC/BA '14, visited Bravo and describes it as the most memorable site visit for her.
"Bravo was just a blast," she says. "We got to speak to about a half dozen people from all different departments and we really got to see the different job opportunities there and get a well-rounded look at the company."
Like Rochester, she also got a close look at the NBC Page Program, and spoke with a number of Pages who work in different areas. Of the trip as a whole, she says, "It was an incredible experience to see how things in NYC work, and to connect with alumni who successfully transitioned from AU to great jobs in NYC."
Swan agrees.
"I found that the alumni made efforts to inform us about their employers rather than sell them, which I deeply appreciated," he says. "I learned a huge amount from the alumni because of their candor."
Weinerman advises current students to use the Career Center as a resource in applying for jobs. 
"You'd have to be foolish to not use the Career Center," says Weinerman. "When I was in school, I thought I knew everything, I swore I had the perfect resume, I thought I'd get the job without interview practice." She quickly realized that more was needed.
"With hiring being so competitive and candidates being so incredibly talented, the Career Center can give you that extra edge, that extra pointer that you may have not considered on your own. It's free—learn it, get to know the staff, use them as resources."
Swan is certainly satisfied with his experience traveling with the Career Center on the NYC Site Visit Trip.
"Having the chance to experience New York as I would after graduation prevented me from wasting a great deal of time exploring options that I once considered totally reasonable," he says. "I'd absolutely recommend the NYC Site Visit Trip to other students."