Alumni
You've Got to Read This: Alumni Librarians Share Their Favorite Books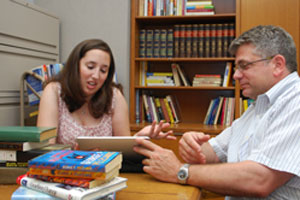 Ah, summer - it's a time for soaking up the sun and burying your nose in a great book - whether you're on the beach, in a plane, or tucked into your favorite chair.
What should you read? Here, four alumni librarians and our own AU librarian recommend their favorite books for your summer reading pleasure - and tell you why you should put down the phone, turn off the television, and pick up a new book now.
What are you reading right now? 
Annie Lyon, CAS/MA '03, library science master's candidate at the Catholic University of America: I just finished The Swan Thieves by Elizabeth Kostova, which I liked. I also loved Alison Weir's The Lady in the Tower: The Fall of Anne Boleyn. I haven't yet read Push by Sapphire, so that's next on my list - I loved Precious. 
John Renaud, CAS/BA '96, director of collection strategies and scholarly communication at the University of Miami: The Case for Books by Robert Darton. He runs the library at Harvard University. It covers the history of the book – everything from the origin of the scroll to what is happening now electronically. 
Randall Tenor, SPA/BA '68, supervisor of Research Services at the State Library of Pennsylvania, Department of Education: I'm reading four at once. Cyber War: The Next Threat to National Security and What to Do About It by Richard Clarke. It talks about the threat of China and North Korea. The Bridge: The Life and Rise of Barack Obama by David Remnick because it's about Obama's lineage, and I'm fascinated by genealogy. John Adams by David McCullough which is the best presidential biography I've read. And Last Words: A Memoir by George Carlin. It's funny, but has serious moments too.
Bruce Rosenstein, SOC/BA '73, adjunct lecturer in the Catholic University's School of Library and Information Science: The Numbers Game: The Commonsense Guide to Understanding Numbers in the News, in Politics, and In Life by the hosts of BBC radio show More or Less Michael Blastland and Andrew Dilnot. 
William "Bill" A. Mayer, university librarian at American University: A mystery/thriller, No Where to Run by C.J. Box. Also, Pulitzer: A Life in Politics, Print, and Power by James McGrath, CAS/BA '68. 
Who is your favorite author? Why? 
AL: I can't answer that! That's like asking, 'Who's your favorite parent.' Jane Austen is definitely way up there. 
JR: Faulkner made a huge impression on me; I've read every one of his works. Also, Leon Uris – I get transfixed by his work. 
RT: Mark Twain because he wrote about heavy topics in a light manner, like in The Prince and the Pauper. 
BR: Peter Drucker because he had the most impact on me. I recommend The Daily Drucker because it's a good sampler of his work. Also, his memoir Adventures of a Bystander. 
WAM: It's impossible to pick just one. One that I return to over and over again is Patrick O'Brian, the author of Master and Commander and the Aubrey/Maturin book series. Also, Nick's Trip by George P. Pelecanos - he's the man. 
What is your favorite book of all time?

AL: It's a tossup between Rebecca by Daphne DuMaurier and A Tree Grows in Brooklyn by Betty Smith, both of which I read in the 7th grade – it was a huge year for me. 
JR: The Sound and the Fury by Faulkner because it traces the entire history of the south and race relations and shows how people develop or fail to develop as a community. 
RT: It's changed over the years. I'll say The Jungle by Upton Sinclair. He had the courage to talk about things that people didn't want to hear and directly changed our culture.

BR: One book that I keep coming back to is Jorge Luis Borges' Labyrinths, a collection of fiction and non-fiction. There's an AU connection, AU Professor Charles Larson recommended the book when I was a student. Borges was also a librarian. Although I first read it as a student, it really took hold later in life. 
WAM: On the Road by Jack Kerouac. It's incredibly freeing, and it makes me think of wider horizons. 
What book do you most often recommend to others?

AL: If you want a good, spooky book, a book about not letting go of the past, I recommend Rebecca. Later, Alfred Hitchcock directed the film version. Also, since I'm interested in working with kids and young adults, I read a great deal from that genre and many have a crossover appeal – beyond Harry Potter. The Hunger Games by Suzanne Collins blew me away, and I've been recommending it to everyone. Even when you're older, young adult books like The Outsiders by S.E. Hinton are still relevant.

JR: Catch 22 by Joseph Heller. There's a scene everyday that will pop to mind. 
RT: The Good Earth by Pearl S. Buck, a very good writer. Plus, we can never know enough about world cultures.

BR: Any of Tom Butler-Bowdon's books. I wrote about him extensively for USA Today. For 12 years I reviewed books for the Money section. I recommend two from that time: Michael Gelb's How to Think Like Leonardo da Vinci: Seven Steps to Genius Everyday and Finding Flow: The Psychology of Engagement with Everyday Life by Mihaly Csikszentmihalyi, who found that you don't find meaning as much as you make meaning. 
WAM: The Zen and the Art of Motorcycle Maintenance by Robert Pirsig, The River Why by David James Duncan, and The Confederacy of Dunces by John Kennedy Toole. They all involve a journey, whether literally cross country or of the mind. All are about the pursuit of what is meaningful in life. 
Is there a book that you have re-read multiple times? If so, which book have you re-read the most? 
AL: Gone with the Wind by Margaret Mitchell – I was going on a trip when I was 16, and it was the only book I took with me. I read it seven times in a row in six weeks. I read it so many times that I know certain passages by heart.

JR: The Sound and the Fury and Absalom! Absalom! by Faulkner, and The Fountain Head by Ayn Rand. 
RT: Yes, Carl Sandberg's Lincoln. I like his style of writing. 
BR: Jorge Luis Borges' Labyrinths, a total classic. 
WAM: A Firing Offense by George P. Pelecanos. It's edgy, gritty, and gets me interested in reading the entire series over again. 
Why should people read more?

AL: If you can't take a vacation, a book will whisk you away, anywhere you want to go. You can go to Africa with Heart of Darkness (Joseph Conrad); to England with Five on Treasure Island (Enid Blyton), or to China with The Good Earth (Pearl S. Buck). 
JR: Because TV and radio won't give you the same in-depth research and character study that only books can. 
RT: It's not about quantity, but quality. Readers should be risk takers. Challenge yourself by seeking out viewpoints that are different from your own. I think a lot of problems in the world – including war – come from world cultures not understanding each other. Reading allows you to see from a different point of view. When I read the autobiography of Malcolm X, I may not have agreed with everything he says, but [after reading it] I understood why he did the things he did, why he said the things he said, and knew where he was coming from in general. 
BR: To gain a better understanding about the world and themselves. 
WAM: It's the key to life. It's how you open your mind, learn about the world. There's no end of insight. It's fun! It's the greatest pleasure of our time. If you teach a child to read, it will be the most rewarding experience of your life. I volunteer to read to kids at schools and libraries, which has been a wonderful experience.

MEET OUR LIBRARIAN PANEL 
Annie Lyon, CAS/MA '03, Web communications coordinator at the School of International Service, will graduate with her second master's in library science from the Catholic University of America this summer. She also volunteers at the D.C. Public Library - Palisades, sorting and pricing used books to help raise funds for DCPL. "I've always loved books, reading them, recommending them, and talking about books in general. I worked with kids as an administrator at private schools and often recommended books to the students. I'm a book nerd," she laughs. 
John Renaud, CAS/BA '96, director of collection strategies and scholarly communication at the University of Miami, earned his master's degree in Library and Information Studies from the University of Rhode Island. "I was working on my master's degree in English literature at the University of Vermont. While working on an extensive assignment on William Faulkner, the librarian there suggested I study librarianship because of my interest in books as an object. The rare books collection with Faulkner's special editions and rough drafts was an exciting find," he says. 
Randall Tenor, SPA/BA '68, is supervisor of Research Services at the State Library of Pennsylvania, Department of Education. "It's an exciting profession. When I got started in the 1970s, computerized databases were just developing," he says. 
Bruce Rosenstein, SOC/BA '73, a writer for the Northern Virginia Community College's Office of Institutional Research, worked for USA Today as a reference librarian and wrote about business and management books for the Money section for more than 20 years. He is also an adjunct lecturer in the Catholic University's School of Library and Information Science. He published the book Living in More Than One World: How Peter Drucker's Wisdom Can Inspire and Transform Your Life in 2009.

William "Bill" A. Mayer, university librarian at American University, began his career at MIT and also worked at the Harvard Business School before moving to the Washington, D.C. area. He is an international speaker and leader on the changing face of services in libraries, managing organizational change, and the innovative applications of technology in library and university systems. "When I was living in Boston and working at the MIT library, I ran the basement book section. I had a clear concept that I could connect students to research, so I worked full-time while I got my LIS degree," he says.