Alumni
Spreading the AU Pride
AU Pride Alumni Alliance, celebrating LGBT and ally community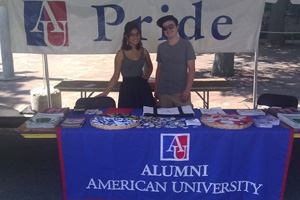 The Office of Alumni Relations, in partnership with the Center for Diversity and Inclusion, is continuing its commitment to alumni outreach with the American University Pride Alumni Alliance ("AU Pride"), the newest affinity group for AU alumni.
AU Pride, which celebrates our LGBT and ally community, aims to connect alumni through educational, social, and service activities while encouraging interaction and mentoring with current students. In 2012, successful events included a happy hour event at Nellie's Sports Bar in Washington, Night OUT at the Nationals Ballpark, and participation in Capital Pride activities. 
These exciting opportunities are already creating visibility among the AU LGBT and ally community and the growth of AU Pride will only emphasize this success.
Isaac W. K. Thweatt, director of alumni outreach, shares, "It's an exciting time to be an Eagle. Many universities have LGBT alumni organizations, but few have the energy to connect students with alumni like AU." Thweatt joined AU's alumni relations team in January 2012 and expects AU Pride volunteerism to increase greatly in the coming year, particularly as events are launched across the country.
In addition to AU Pride, the new Center for Diversity and Inclusion is working hard to enhance the LGBT and ally student community. 
Their annual events during LGBT Awareness month in October provide opportunities for engagement, learning, and awareness for the entire university. Partnering with the Center for Diversity and Inclusion will help connect current students to successful alumni who are either actively working for LGBT social equality or are open about their identity while working in a professional field.

The upcoming 2013 Lavender Languages Conference is another occasion for students and alumni to come together and celebrate scholarship and activism surrounding LGBT languages and linguistics.
AU Pride is just one more example of American University's efforts and dedication to enriching diversity and inclusion, not only for students, but for the alumni who wish for continued connection and involvement.  

Many alumni have already expressed their interests in volunteering, and we invite you to join us too.

For more news and information about AU Pride, join us on LinkedIn or become a Facebook group member.