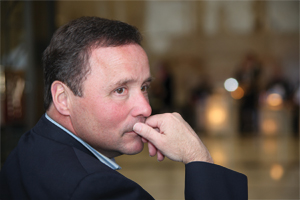 Dwight D. Eisenhower set out from his small central Kansas hometown of Abilene at 20 years of age, destined to alter the arc of world history. More than a century after his birth, Karl Weissenbach came to Abilene hoping to change the way the world views Ike's remarkable life.

Director of the Eisenhower Presidential Library and Museum, Weissenbach, SPA/BA '76, takes solidifying the 34th president's legacy personally. "I was always very much enamored with Dwight Eisenhower," Weissenbach says from his office, a portrait of Ike hanging in the background. The large room, with built-in bookcases lining one wall and a painting of a schooner that once hung in the Oval Office on another, was Eisenhower's from 1966, when the library opened, until his death three years later. "I admired his leadership, and I also admired the fact that he was a humble individual," Weissenbach says. "He relied on his staff. He was a great delegator. He didn't always need the spotlight. The values that he learned here in Abilene, I think he took with him." 
Ensuring those values permeate through all facets of the library and museum—a 22-acre campus that also includes Eisenhower's boyhood home, a visitor's center, and a chapel where he's interred with his beloved wife, Mamie, and infant son, Doud—is Weissenbach's mission.

"A presidential library director is a very nontraditional sort of position," says his boss, U.S. assistant archivist for presidential libraries Sharon Fawcett (incidentally, also an Abilene native). "What are we looking for? A librarian? An archivist? A museum curator? A public relations person? We're looking for someone who can do all of that, and Karl has shown that ability."

Born in Denison, Texas, in 1890, Eisenhower and his family two years later moved to Abilene, a small farming community 150 miles west of Kansas City. Dwight and his five brothers grew up working the land and playing sports—football and baseball in particular. Nine people lived in the family's 1,314-square-foot home, which still sits in its original location on Southeast Fourth Street. It didn't have indoor plumbing until Ike was 18.

"Each kid had to work, and that shaped them," Weissenbach says. "He was very frugal, and that frugality [affected] his thinking on federal budgets. Eisenhower could not stand waste. It drove him crazy during the war, and it drove him crazy during his presidency. He did not lead a pampered life."

Nor has Weissenbach. The son of a Czechoslovakian woman, Weissenbach was born in Germany before his family immigrated to the United States when he was eight. They settled in Georgia, but he soon went to live on a farm near the Alabama border after his mother was taken by cancer.

It was there he developed a deep affection for horses and broader curiosity about the world.
"I always thought I was going to go to vet school," he says. "But at the last minute, someone told me about American University in Washington. Living with a pretty prominent political family in west Georgia, I always had some interest in politics. When Jimmy Carter ran for governor, he came to visit us. I can remember him sitting on the couch saying, 'If you stay in school and work hard, you can go places.' Those words from Carter always stuck with me. In a roundabout way, he kind of influenced me that there was another world out there I needed to explore. That's how I wound up at AU."

Armed with a political science degree, Weissenbach went to work for the National Archives in 1979—and he's never left.

After serving as the supervisory archivist of the research rooms in downtown Washington, he moved to the Office of Presidential Libraries. Operating the 13 libraries (Franklin Roosevelt's was the first) requires a full quarter of the archives' budget. From 1991 to 2005 Weissenbach worked on the contentious Nixon Presidential Materials project, where as supervisory archivist and director he was involved in major battles between the courts and former president over release and access to highly controversial White House tape recordings and papers.

"I had always told myself that once we had addressed the litigation issues and found a way to get the tapes and papers open, then it was time to pass the baton to someone else," Weissenbach says. "I could have gone to Yorba Linda, but I think they needed a fresh start. I needed a fresh start."

That came in Abilene. The city of 7,000 appealed to Weissenbach's small-town roots (and affinity for horseback riding), and he relished the challenge of nurturing Eisenhower's presidential reputation.

As supreme Allied commander during World War II, Eisenhower gained world-wide adulation for his orchestration of the D-Day invasion. After the defeat of the Axis powers in Europe, his reputation as one of history's greatest military heroes was cemented.

But his presidency, from 1953 to 1961, is another story. In the latter part of the twentieth century, many historians branded Ike a "do-nothing" president. Among his grandest accomplishments are building the interstate system (I-70 runs right past Abilene) and maintaining peace with the burgeoning Soviet empire in a rapidly changing world. With the latter in mind, he encouraged 13 university presidents, including AU's Hurst Anderson, to incorporate human-focused international affairs into higher education. This led to the creation of AU's School of International Service, at whose groundbreaking Eisenhower spoke in 1957.

"I wasn't necessarily happy with some of the books that came out in the 1960s," Weissenbach says. "They criticized him based on the limited amount of material that had come out. When a president leaves office, those records aren't processed for years. I think you have to wait years before you get a good understanding of a president and his presidency."

The Eisenhower library continues to release documents today. Its original collection of 12 million pages has swollen to 27 million, and its collection of artifacts has grown from 12,000 to 75,000.

"We've been releasing massive amounts of documents over the years," Weissenbach says, adding that's one reason he believes Ike's presidential stature is improving. "We recently released National Security documents that talk about the Suez [Canal] crisis [of 1956]. I'm not sure it will rewrite history, but it will certainly give a new perspective about that era."

Eisenhower's role in the civil rights movement in the 1950s often is debated. He sent troops into Little Rock, Arkansas, to assure compliance with the public school desegregation ruling of a federal court and ordered the desegregation of the Armed Forces, but some remain critical of his perceived tight-lipped stance on equal rights.

"I think what was said in the 1960s is changing," Weissenbach says. "As a result of the large number of civil rights documents we've released in the last two or three years, historians have gotten a better idea that he was very much involved in the issue."

Weissenbach tirelessly promotes the library and museum; his aim is to bring researchers and visitors to Abilene regardless of their opinions on Ike.

It's working. Last year a record 717 researchers and 159,000 visitors made the pilgrimage for programs ranging from the D-Day 65th anniversary commemoration to Kansas town hall forums.

"He is focused on relevance, and that is the most important thing an administrator can be in today's world for libraries," says AU librarian Bill Mayer, who's exploring partnership possibilities with Weissenbach. "How do you maintain and promote your relevance to your community? His attention to detail and collaboration—just thinking about ways to reach the community—is what makes him in my mind really interesting and compelling."

Running a presidential library with a staff of 84 and a $3 million budget requires its fair share of paper pushing, but each day Weissenbach makes a concerted effort to shed the confines of the office and stroll the lush, green grounds of the campus.

"I enjoy talking to people, finding out why they came to Abilene, or whether they knew or admired Eisenhower," he says. "Most people have their own little story."

Dwight Eisenhower's momentous life played a critical role in writing a major chapter of the story of the twentieth century. Today, Karl Weissenbach is helping tell the world the story of Dwight Eisenhower.