Research
Spring Public Administration and Policy Research Seminar Series Announced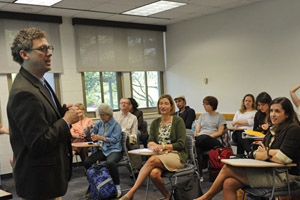 The Department of Public Administration & Policy's seminar series showcases recent research from faculty, doctoral students, and guest scholars. All seminars are held on Thursdays from noon to 1:00 p.m. in Ward 305. Feel free to bring a bag lunch.

January 17th


The Impact of Payout Policy on Institutional Philanthropy: Fulfilling the Public Good Amidst Professionalization?

Mandi Janis, PhD Student, DPAP


January 31st

School Size and Student Achievement: Does One Size Fit All?


Laura Crispin, Assistant Professor of Economics, St. Joseph's University

February 7th


Egypt's National Initiative to End Female Genital Mutilation: A Policy Assessment of an Anti-FGM Media Campaign's Impact on Behavioral Intent, Attitude & Belief

Yusra Shawar, PhD Student, DPAP


February 21st

The Politics of Governing Hydraulic Fracturing


Odelia Funke, Executive in Residence, DPAP

February 28th


Title TBA


Tara Beteille, World Bank

March 7th


Title TBA

Ed Stazyk, Assistant Professor, DPAP


March 28th

Title TBA


Tina Nabatchi, Assistant Professor of Public Administration, Syracuse University

April 11th


Title TBA


Tim Diette, Assistant Professor of Economics, Washington & Lee University

April 25th


Title TBA


Melissa Kearney, Associate Professor of Economics, University of Maryland

 

Contact: Please contact Seth Gershenson at gershens@american.edu with any questions.