Achievements
SPA Professorial Lecturer Joins Emerging Education Policy Scholar Program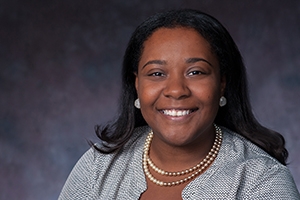 Constance Lindsay has become the second AU School of Public Affairs (SPA) faculty member to be selected to join the Thomas B. Fordham Institute's prestigious Emerging Education Policy Scholar (EEPS) program. Lindsay, a professorial lecturer in SPA, follows Seth Gershenson, SPA assistant professor, who was named an emerging scholar in 2014.
The EEPS program was established in 2010 to advance the field of education policy in the United States and to bridge the gap between research and policy. A unique one-year platform that brings together emerging scholars from across the country, it helps to cultivate talent and encourage knowledge-sharing among researchers and experts.
"Scholars who are interested in education policy get into it with an idea that they want to make a difference," says Lindsay. The EEPS program, she says, "takes education policy scholars and really gives them the skills to get their research out there. If you are doing all this research to help kids and to advance education, you want your research to be available to help inform good policy decisions."
EEPS scholars meet in Washington over the summer and winter to discuss issues ranging from Capitol Hill policy-making to promoting their work beyond the academic setting. Dr. Lindsay's cohort will gather on January 21-22 for meetings with Washington policy experts, academics, policymakers, and reformers.
"I am very passionate about education policy -- this is something I've been working on for the past 10 years," Dr. Lindsay says. "It is an honor to be named, and a great opportunity to engage with other scholars and policy makers and to learn how to make the connection between my research and the world around me. It will also help to increase the impact that my work can have on education policy. And that, I think, is pretty exciting."