Achievements
SPA Faculty Earn University Research Grants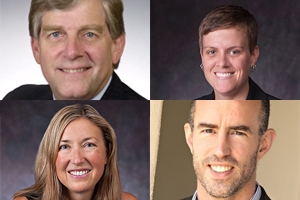 Four faculty members from the School of Public Affairs recently received Faculty Research Support Grants from the Office of the Provost at American University.
Richard Bennett, chair of the Department of Justice, Law & Criminology, earned support for his study on "Retiring from Active Duty: A Pilot Study on How Police Officers Cope with the Transition." Ryan Moore, assistant professor of government, will investigate "Geolocated Surveys for Contextual Effects." Jane Palmer, director of the Community-Based Research Scholars program, will research "Civil Legal Needs of Victims of Sexual Assault." Lastly, Lynn Addington, associate professor of justice, law & criminology, received funding for her group project titled "D.C. Area Survey Pilot Study." Addington will work with Michael Bader, CAS, Maria De Jesus, SIS, Sonya Grier, KSB, Robin Lumsdaine, KSB, and Nina Yamanis, SIS.
The Office of the Provost provides competitive intramural research grants to support faculty research, scholarship, professional, and creative activities. This support mechanism provides support for time and direct costs to increase research productivity. Research is defined as creative works, experimental investigations, professional projects, archival studies, and other scholarly endeavors that advance knowledge in the applicant's discipline, field, or profession.