In the Community
Predictions for 2018 Alumni from American University School of Public Affairs Share Their Predictions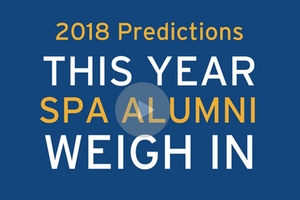 At the end of each year, American University School of Public Affairs (SPA) asks faculty experts to share their predictions for the year ahead. This year, we asked a few of our alumni to weigh in.



"SPA alumni are working to solve complex issues in a wide range of fields - in DC and around the world," said Interim Dean Vicky Wilkins. "Many of our graduates are incredibly involved in the school - from serving in advisory roles to mentoring and connecting with our current students. They are a great source of pride for SPA."
SPA currently has more than 23,000 alumni. From U.S. Representatives and mayors, to presidential campaign advisors and managers, chiefs of staff and chief executive officers - SPA alumni are top experts in their fields.
Watch as these seven SPA alumni make their 2018 predictions.
What are your predictions for 2018? Share your own on Twitter, Instagram, or Facebook using the hashtag #2018Predictions. Tag us @au_spa !