On Campus
The First 100 Days of the Trump Administration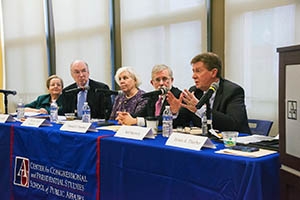 The accomplishments of a president's first 100 days have become the measure of a successful start. The tradition, which dates back to Franklin D. Roosevelt's presidency, has been extended to President Donald Trump, who laid out a 100-day action plan in October.
SPA's Center for Congressional and Presidential Studies (CCPS) hosted an event on January 24 to review what the 100 days typically means for a new administration and examine President Trump's approach to executive power.
The event was held after executive orders were signed to repeal the Affordable Care Act and to institute a sweeping federal hiring freeze, just to name a few.
"Things happen rapidly in the first days of a presidency and it's important to help people unpack what it means," said Candy Nelson, interim director of CCPS. "The first two weeks of the Trump Administration have already shown unprecedented use of presidential power."
James A. Thurber, SPA distinguished professor moderated the event. Panelists included Neil Kerwin, president of American University; Daniel J. Fiorino, director of SPA's Center for Environmental Policy; Martha Joynt Kumar, director of the White House Transition Project; Janice Lachance, president-elect of the American Society for Public Administration; and Howard McCurdy, SPA professor.
The panel members discussed everything from rule-making to environmental policy, and from science and technology policymaking, to predicting the unpredictable. Within this context, they also pointed out that legislation is not the only yardstick of presidential outcomes.
New presidents regularly take advantage of their unilateral power to direct the executive branch. Bill Clinton, George W. Bush and Barack Obama issued memoranda reversing the previous administration's rules about abortion funding and international aid shortly after taking office. Just two weeks in, President Trump has followed suit.
"President Trump creates his own measuring stick," said Lachance. "If we think we can compare to the past, we're in trouble. He's shown he's willing to throw out the playbook."
"How a president manages rule-making will determine, to some great extent, his or her success in managing the policy initiatives that they think are important," said Kerwin. "It is clear to me that this new administration is determined to do something truly monumental with regard to rule-making."
By his 100th day in office, Franklin D. Roosevelt had begun to reshape government's role in the American economy. He declared a national banking holiday, signed bills that provided government relief for farmers and the unemployed, and pushed for new federal jobs programs. For every president since, the challenge remains to top the many early accomplishments Roosevelt.
The entire event is available to watch here.