On Campus
Project on Civil Discourse Guest Lecture Examines First Amendment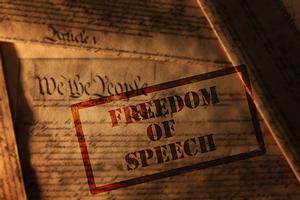 Addressing an audience at AU as part of a lecture series on Oct. 17 sponsored by the AU School of Public Affairs (SPA) Project on Civil Discourse, Garrett Epps explained that he is a big believer in free speech — even when it's difficult at times to tolerate.
"We protect hate speech because the alternative is worse," said Epps, a University of Baltimore law professor. He cautioned students who want to silence extreme voices on campus and allow the government to designate what it considers hate speech. "To the extent we try to categorize political speech as hate speech — that is something that needs to be watched."
Epps maintained the First Amendment should be protected, especially in a country where people are divided by economics, region, and race. He acknowledged that free speech has costs but bristled at moves to limit speech.
"I think free speech is under assault from every aspect of society, beginning at the White House, because people don't fully embrace why we have it," said Epps who is also the Supreme Court correspondent and a contributing writer to The Atlantic Online.
The country was built on the ideal of debate in the public square, and Epps raised a concern about efforts to charge high fees or otherwise curtail expression in parks. The government should have to show special reasons why venues are off limits, he said.
"You start with the presumption that space, like Lafayette Park, is a perfect place to register dissent or support for what the president is doing," said Epps, referring to the park across the street from the White House.
In his remarks, Epps discussed the implication of various First Amendment court cases, such as Bible Believers v. Wayne County Michigan. The 2015 case upheld the right of a conservative religious group to heckle participants at a local Arab festival and be protected by police. Although the courts sided with the value of free expression, the festival couldn't get insurance coverage and was cancelled.
"In a big diverse society, there is a need for free speech, but we shouldn't pretend it doesn't have costs," said Epps."
Analyzing the power of speech, Epps emphasized that the impact of speech depends on the environment and speaker. He discussed the confirmation hearing of Judge Brett Kavanaugh and compared the influence of his testimony with that of Christine Ford and the rhetoric of President Trump. The government officials with power were able to monopolize the public discourse, compared to Ford, an ordinary American, he said.
"It's not about who is telling the truth," said Epps. "The ability to analyze speech questions need to involve context."
When it comes to how Americans view free speech, Epps said people tend to believe in it for themselves but not always for others and added, "I'd like to see us as a society, unless there is some really good reason not to, support free speech."