Achievements
SPA Congratulates the First Graduates of its Online Masters in Public Administration and Policy Program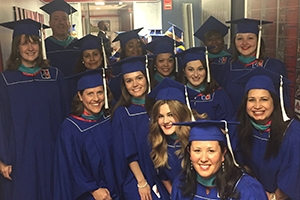 On December 21, American University's School of Public Affairs graduated the first class from its online Masters in Public Administration and Policy program.
At a time when public administration and policy career prospects are strong, the online MPAP prepares students to lead in positions across the private, government, and nonprofit sectors. These jobs require strong analytics, creativity, communication, leadership and problem-solving capabilities.
"It was such an honor to see the MPAP graduates accept their diplomas," said SPA's Senior Associate Dean Vicky Wilkins. "As the first graduating class for this program, they've certainly set the bar high."
In just 24 months, the part-time online curriculum provides students with analytical, contextual, ethical, and substantive skills and knowledge to effectively advise public policy and lead public programs in government, the non-profit and the private section in the United States and abroad.
To learn more about the online MPAP program, visit: www.american.edu/spa