Achievements
Five Questions with Amy Dacey, Director of the Sine Institute of Policy and Politics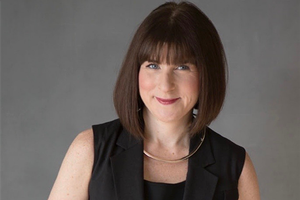 The Sine Institute, a university-wide initiative, was created in 2018, as an incubator for policy and an innovation hub for the best minds in the public, private, and nonprofit sectors, the arts, and journalism. As Sine's second year of programming draws to a close, we sat down with Director Amy K. Dacey for a conversation about the institute's past and future, and its role in responding to one of the most challenging years in modern history.
Amy, you joined Sine almost a year after it launched. What drew you to the institute?
Well, as a graduate of American University, it is always great to get back on campus. As President Burwell was coming on to American University, she created the Sine Institute of Policy and Politics, with a generous $10 million gift from [AU alumnus and entrepreneur] Jeff Sine (SIS/BA '76) and [advocate and journalist] Samira Sine. It was just what I was wanting to work on, taking a 360 view of the policymaking process and bringing in incredible speakers to talk about nonpartisan solutions to some of our biggest problems. I had been doing some work with students, and I think it is so important to get them engaged and involved early, so it was the perfect opportunity to do all those things.
Sine is celebrating its second anniversary! How has it grown?
We've worked in a lot of ways to build internal collaboration. As one of only two university-wide institutes on campus, we have built awareness among the campus community on the work we are doing, and collaborated with other AU colleges and schools, with joint events with the Washington College of Law, the School of Communications, the SPExS [School of Professional and Extended Studies] program: we've really reached every part of campus. We've also made it more student-focused, with a student advisory board, and associates who work directly with our Spring Fellows class every year.
At the same time, we've focused externally, bringing in incredible speakers, creating partnerships with organizations outside of campus, making sure we build relationships and make our work accessible to not only students (graduate and undergraduate), but also to faculty, staff, alumni, and community members. We have created external partnerships, as with our work with the U.S. Chamber of Commerce Foundation on criminal justice reform. Our Fellows bring in other organizations, leading to joint programs with the Bipartisan Policy Center, Common Ground Solutions, No Labels, and some other interesting groups working in the nonpartisan space.
What is Sine trying to achieve right now?
We've just recently opened up the application process for Spring fellows for 2021, and we're having the necessary conversations to build a really strong cohort. This fall, in a national election year, we're very focused on how is policy represented. We are doing a debate series [beginning September 28] to give an insiders' view to the debate process. We are also working with faculty and outside groups to figure out some longer-term programs that dive deeper into some of these policy issues, hopefully with incredible substantive results.
What are the priorities for Sine in the next three to five years?
Looking forward, Sine certainly wants to establish an even bigger presence and awareness on campus and off campus, in the District. Though we are in the nation's capital, another goal is to engage people out in the States, including elected officials, journalists, and civil servants at the state and local level, as well as internationally.
Finally, the great COVID question. How has Sine optimized its programming in the face of the national health, economic, and cultural challenges of 2020?
In the spring, we converted the discussions with our Fellows to online events. Even so, we were able to create a lot of interest, and we made sure we fulfilled the work of the Fellows throughout the spring semester.
Sine is also looking at the issues that have affected the country, whether global health or the financial crisis, finding new ways to address them, and getting ahead of some of the challenges facing us in the future. We have certainly become a real team partner with campus, making sure students are still getting the experience they need in this virtual world, and providing them with access to some of the great programming and people that Sine brings to campus.
Finally, I feel that Sine has really met this moment with real-time programming. Distinguished Lecturer The Honourable Joe Hockey [ambassador of Australia to the U.S.], gave us a global perspective on the pandemic and the financial crisis. In National Pride Month, we brought in Alphonso David, the president of the Human Rights Campaign, to talk about the LGBT community. We hosted Gary Cohn [former Director of the National Economic Council and chief economic advisor to President Trump], to discuss the national financial situation. One of our alumni, Philadelphia councilman Allan Domb ('77), spoke on how communities locally are dealing with these challenges. Sine looked hard at what was facing us and offered an international, national, and local perspective.
Follow Sine (@AUSineInstitute) on Facebook, Instagram, and Twitter for updates on events and programming, and media appearances with Director Dacey. And, sign up for our newsletter to get weekly updates on everything happening at Sine.