On Campus
A Full Docket for the Justice Programs Office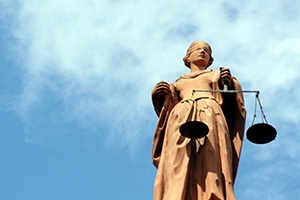 The School of Public Affairs' justice programs have undertaken a robust autumn agenda under director Caroline Cooper. Cooper reports that the Justice Programs Office activities closely align with a wide range of current and ongoing national and international justice system reform efforts. Looking forward to the Spring, the JPO team is excited about continuing – and expanding – its work with drug treatment courts and related activities. This includes promoting health and justice partnerships to address drug offenders, supporting alternatives to incarceration, assisting Veterans Treatment Courts, and continuing work with the U.S. Department of Justice's (DOJ) Right to Counsel initiative.
October
Justice Horacio Corti, the chief public defender for Buenos Aires, Argentina was honored at a luncheon co-hosted by the AU Law School and the JPO. At JPO's invitation, leaders of the local public-defense community met Justice Corti, who has devoted his career to advocating for human rights. Justice Corti is the former president of the Buenas Aires Magistrates Council, with which the JPO and SPA have entered into a memorandum of agreement to work together to promote areas of mutual interest. He was in Washington for meetings of the International Committee on Human Rights.
November
JPO coordinated the planning and conduct of the "Kick-off" meeting of the BJA/DOJ "Right to Counsel" initiative on November 10th, working with a national consortium of constituent organizations representing both defense providers as well as prosecution, law enforcement, judges, county government officials, community based organizations, and others. The session, held at BJA, was convened under the aegis of the Office of Justice Programs at the U.S. Department of Justice.
The consortium's mission is to inform and engage policymakers, criminal-justice stakeholders, and the public on the importance of the Sixth Amendment Right to Counsel. The invitation-only meeting featured sessions on topics ranging from the value of effective public-defense services in promoting the integrity of the judicial process and public trust and confidence in the court system to current challenges and proposed solutions.
JPO's participation was an extension of its Right to Counsel Technical Assistance project launched two years ago in partnership with the National Legal Aid and Defender Association (NLADA) and with the support of the federal Bureau of Justice Assistance. The goal of that project has been to promote adherence by public defense service providers with adherence to the Ten Principles of a Public Defense Delivery System outlined by the American Bar Association.
Also in November, JPO staff and a committee of drug-court judges met with Judge Chad Schmucker, president of the National Judicial College, to plan the curriculum for a judicial leadership program focusing on the role of judges "outside of the courthouse" in developing community-based resources and support for drug courts and other alternatives to incarceration. The new curriculum builds on an implementation guide previously developed by JPO.
December
In addition to its ongoing technical assistance services to state and local judicial systems, JPO was involved in three international gatherings focusing on alternatives to incarceration. On December 1-2, JPO staff were invited to participate in a Symposium convened by the Organization of American States (OAS), attended by the chief justices and other justice system representatives from over 20 countries. (The JPO/SPA also has a Memorandum of Agreement with the OAS to work jointly on issues of mutual import and has published several joint publications)
On December 9th, Cooper delivered a presentation to the United Nations Office of Drugs and Crime in Vienna, on the role of the justice system in dealing with drug offenses, employing strategies entailing "therapeutic jurisprudence" concepts to break the destructive cycle of drug abuse and mass imprisonment. Cooper's presentation drew on a chapter she had co-authored with SPA Professor Richard Bennett and Judge Jamey Hueston (Baltimore) titled "Drug Policy Futures Report 2015," highlighting the effectiveness of a holistic approach – interweaving punishment, treatment and prevention – in dealing with drug users rather than the traditional criminal justice approach of arrest and prosecute.
On December 15-16, Cooper participated in a conference convened by the French National Judicial Institute focusing on the potential application of therapeutic jurisprudence concepts to the criminal process in France, with particular focus on criminal proceedings. One outcome of this meeting is a prospective partnership between the University of Reims and American University to conduct a joint project looking at the application of therapeutic jurisprudence concepts, including those of procedural justice, in sentencing proceedings in Washington D.C. area courts and counterparts in Reims.
During December, the JPO also hosted a delegation from the Buenos Aires Public Defender Services, at a series of meetings with District of Columbia Superior Court Drug Court officials and the District of Columbia Public Defender Service.
Commenting on these various activities, Cooper noted: "We need to get away from the knee-jerk reaction that prison is the answer," Cooper said. "Decriminalizing drug use is also not the answer," she added. "There are still the problems of family dysfunction, employment and crime associated with it. It's not just criminalization or decriminalization – people are on drugs and committing crimes. We have to deal with these two realities. But, underlying them both, is the evolving research that drug addiction is a chronic, relapsing disease of the brain that responds to treatment and that incarceration in and of itself is not only not effective but frequently exacerbates a drug using individual's situation."
Cooper pointed to the need for greater collaboration between the public-health and criminal justice systems. She pointed to Miami's pioneering "Drug Treatment Court" as an example of "the capacity of the justice system to heal as well as punish." However cross discipline education is critically needed.
At the community level, Cooper said, police officers need to be trained in mental-health crisis intervention, for example, so they can react appropriately to de-escalate appropriate situations and make prompt referrals to experts outside of the legal system better able to deal with them."
"Eighty percent of the civil and criminal caseload in U.S. courts involves drug abuse."
To address this situation, she said, the judicial system must "distinguish between those involved in the justice system because of addiction, and those committing crimes for reasons unconnected with addiction." For those addicted defendants committing nonviolent offenses, in particular, the justice system can use its leverage to promote "treatment, education, aftercare, rehabilitation and social reintegration as alternatives to conviction and punishment."
For a criminal defense attorney, a role which Cooper has played, the situation presents a particular challenge: "balancing the duty to seek the least restrictive outcome for clients with the recognition that addicts will continue to use drugs and commit crime" without the more intensive and protracted period drug treatment courts require. The key is to ensure that, with either option, the defendant's constitutional rights are protected.
January
JPO welcomed Tracy Velázquez, MPA, as the new Associate Director of JPO. Velázquez has served in various roles at the Vera Institute of Justice, the Council for Court Excellence, and the Justice Policy Institute.
"I am excited to be working at American University, with such a committed and talented group of justice system professionals," said Velázquez.
About JPO
Founded in 1989, The Justice Programs Office applies the tools of scholarship and professionalism to the design, management and evaluation of public programs. Since its establishment, JPO has provided technical assistance, research, training, policy development and program evaluation services to government agencies and organizations throughout the U.S. and the world. Projects address policy, program, resource, and operational issues relating to the administration of justice, coordination of public programs, and the delivery of justice system and associated public health, social and related services.