On Campus
On 50th Anniversary of Right to Counsel Case, AU offers Symposium with Lead Attorney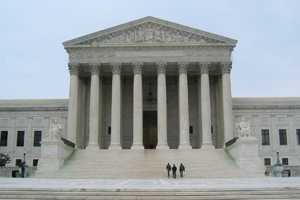 On March 18, 1963, an otherwise ordinary case involving a poor defendant charged with a Florida pool hall break-in who could not afford an attorney led to a landmark U.S. decision. In Gideon v. Wainwright, the U.S. Supreme Court unanimously established the right to counsel for those who could not afford to hire an attorney. The Court stated that counsel is critical to fair process; however, each state was left to determine the structures for providing this Sixth Amendment right.
To commemorate the 50th anniversary of the case, SPA's Justice Programs Office (JPO), in partnership with the National Legal Aid and Defender Association (NLADA), the Washington College of Law (WCL), and the American Council of Chief Defenders (ACCD), will convene a day-long symposium to address the policy issues critical to making the right to counsel an integral component of state and local justice systems. The symposium, "Answering Gideon's Call Outside the Courtroom: Policy Reform Strategies to Protect the Sixth Amendment Right to Counsel Across America," will be held on March 18.
Abe Krash, a partner from Arnold and Porter who was the lead attorney in preparing the brief in Gideon, will address the gathering, providing an historical perspective on the case. This will be a rare opportunity to hear firsthand Krash's experience working on the Gideon brief, and the specific challenges they confronted fifty years ago.
During the decades since the Gideon decision, both American University and NLADA's Defender Legal Services Division have worked with state and local justice systems to improve their effectiveness and fairness, including provision of indigent defense services. This work on the ground has reinforced the realization that there is much to be done outside the courtroom to protect the Sixth Amendment, and to ensure that public defense providers are partners with prosecutors and others in crafting and implementing effective justice system policies. In many jurisdictions this is not the case and the delivery of timely and adequate indigent defense services is often ad hoc and severely deficient.
It is this situation that the symposium is designed to address - to jumpstart recognition of the collaborative leadership role that public defender leaders must play with other justice system leaders in co-creating justice systems. Symposium participants will identify key strategies to achieve balance and effectiveness for indigent defense representation and for state justice systems as a whole. This symposium is a unique gathering of leaders from different justice sectors who will work collaboratively to identify a policy and law reform agenda that focuses not just on the "indigent defense crisis" but on the "justice system crisis," a particularly important topic in these times of state and federal budget shortfalls.
Cross-disciplinary discussion
AU's Gideon symposium is an unusual gathering of 35 thought-leaders (law enforcement, legal practitioners, legislators, researchers, policymakers, community advocates, and others) concerned with the quality and effectiveness of state and local justice systems. The group will work collaboratively to develop the initial framework for an integrated policy reform agenda in public defense and criminal justice that can make the right to counsel a reality.
The Gideon symposium will be held in Founders Room of the SIS building. Although space is limited, students and faculty are welcome to contact Caroline Cooper at ccooper@american.edu if interested in attending.