Achievements
Jon Gould to Join National Science Foundation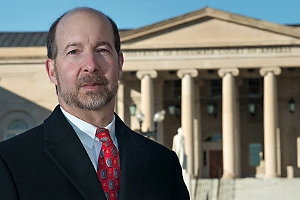 Professor Jon Gould, chair of the Department of Justice, Law & Criminology and director of the Washington Institute for Public Affairs Research in the School of Public Affairs, has been named a director of the Law and Social Sciences Program at the National Science Foundation. His one-year appointment begins in September.
"This is a tremendous honor for Jon, recognizing as it does his leadership in the field of law and society and his experience in grant-funded research," said Barbara Romzek, dean of the School of Public Affairs. "It also benefits us in the long run, helping to raise the profile of the school in such circles and bringing Jon's heightened experience back to SPA when the position ends."
Gould will help steer $6 million in grant money toward research in the fields of law and social sciences. "It will be a chance to immerse myself in research on law and social sciences and help support future scholarship in those areas," he said.
He will remain director of the Washington Institute for Public Affairs Research (WIPAR) and chair of Justice, Law & Criminology through the end of July. While on leave at NSF, he will continue to advise and work with SPA doctoral students.
WIPAR serves as a bridge between academic researchers and the public affairs community, including public agencies, corporations, private foundations, nonprofit organizations and media. It advises faculty in conceptualizing and operationalizing their research and assists researchers in grant-funding.
With WIPAR's encouragement and support, research proposals generated by SPA faculty and the amount of grant funding have increased steadily over the last three years, and almost all of SPA's new faculty have submitted research proposals on some project that has been funded.
"This appointment is a natural progression from WIPAR," Gould said. "At the NSF, I'll be helping to support research and advance important projects of scholars across the country. I'll see part of the grants process from the other side."
A lawyer and social scientist, Gould combines empirical research with policy advocacy to promote government reform and administration. His work focuses on civil rights and liberties, justice policy and legal change, helping to make academic research relevant and accessible to policymaking. Over the past three years, he has led the Preventing Wrongful Convictions Project. Funded by the National Institute of Justice, Gould directed a team of nine in examining how the criminal justice system avoids wrongful convictions.
He has published on the subjects of wrongful convictions, hate speech, sexual harassment, criminal defense, police compliance with the Constitution, and judicial treatment of race and gender. His first book, Speak No Evil: The Triumph of Hate Speech Regulation, was a co-winner of the 2006 Herbert Jacob award for the best book in law and society. His second book, The Innocence Commission: Preventing Wrongful Convictions and Restoring the Criminal Justice System, was named an Outstanding Academic Title for 2008 by the American Library Association. Gould has been a U.S. Supreme Court Fellow, is a Fellow of the American Bar Foundation, and has served on multiple scholarly and policy boards. He has won awards for his scholarship, teaching, and service.
Gould sees his NSF appointment as an opportunity to share with his SPA colleagues the ideas and areas in social sciences that are being funded, the pressing scholarly issues that should be addressed, and the ways to make faculty research more visible.
"It will also be a chance to give back to American University," he said.