Research
Fair, Competent Government Regulation Leads to Better Nursing Homes, Says New Research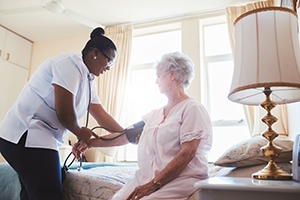 Poor experiences with government regulators could make all the difference with nursing homes, according to a new study. With nearly 16,000 public, non-profit, and for-profit nursing home facilities across the United States, the industry is not only competitive, but it is also one of the most highly regulated. The federal government has developed a complex system of over 180 mandated regulations to ensure the quality and safety of nursing care. All 50 states conduct annual inspections to verify compliance. Yet, stories of mismanagement, negligence, and abuse are fairly common.
In a new study published in Public Administration Review by Anna Amirkhanyan, associate professor at American University's School of Public Affairs, nursing homes that report undergoing fair and competent government inspections are more likely to deliver high-quality care for their residents. Additionally, nursing homes that use federal regulations to monitor care quality internally, also tend to perform better. Amirkhanyan's and her coauthors' findings suggests that investment in the proper training of government inspectors ensures a more effective and transparent review process, which not only improves client and family perceptions of an individual establishment, but also reinforces the home's commitment to reducing regulatory violations.
"Government regulation is increasingly important to control public and private organizations' policy compliance" says Amirkhanyan. "My study demonstrates that regulatory agencies have an opportunity to influence performance through improved monitoring and inspection practices. When regulation and regulators are perceived as fair and competent, organizations are more likely to cooperate with government agencies, and to find the process more meaningful, rather than punitive or something to be resisted."
The study also suggests that improvements in the regulatory process can be especially important to help improve care quality in the private sector: among nonprofit and for-profit nursing homes. Conversely, an excessive compliance burden may undermine providers' ability to invest in cutting-edge practices and technologies, and pressures by regulators may undermine an organization's ability to manage staff, promote innovations, resolve internal problems, and prevent service deficiencies from occurring.
For more information about SPA research, visit: www.american.edu/spa.