Research
Study: Strong Government Ties Improve Child Care Centers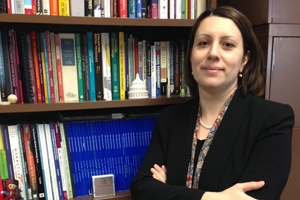 Federally funded child care centers that have strong relationships with government agencies they contract with tend to have more satisfied managers, clients and employees, according to a lead article by an American University researcher in the Journal of Public Administration Research and Theory.
"Organizational performance has been a major concern for researchers and practitioners in the public and nonprofit sectors," said Anna Amirkhanyan, co-author of the study and an associate professor of public administration and policy at AU's School of Public Affairs. "We stress the importance of using multiple and complementary sources of information when assessing organizational outcomes."
The study focuses on the performance of nonprofit and for-profit child care centers in Ohio funded by the federal Head Start program. Her findings are based on data collected from 1,691 parents and 408 teachers at 141 child care centers over a three-year period.
Initiated in 1965 and implemented in all 50 states, Head Start helps fund comprehensive child development programming to preschool children of low-income families. In Ohio, local Head Start agencies contract with for-profit and nonprofit child care centers to provide full-day, year-round care.
To measure performance, the researchers examined regulatory violations documented during state licensing inspections, client satisfaction with the quality of services, and the assessments of directors and teachers on the overall quality of their centers.
As a key determinant of these outcomes, researchers studied the relationship between child care centers and government agencies overseeing them—how well and often they communicated, and how in tune their values, philosophies and procedures were—and how complex and specific the government agency's demands were contractually.
"There's a debate in the literature on whether contracts that are based on trust and close relationships are more effective than those based on a set of pre-defined performance targets," she said.
The study found that collaborative contract development and stronger contractual ties have a positive and significant impact on a director's understanding of his or her centers' performance. Conversely, managers' evaluation of service quality declined as contract formalization—administrative requirements and paperwork demands—increased.
"Open lines of communication between the government and contractor may aid in the speedy resolution of performance problems, resulting in improved employee and parental satisfaction."
-Anna Amirkhanyan
"Relationships that involve trust, shared goals and clear communication empower leadership in contracted organizations, thereby improving satisfaction among managers with organizational performance," she said.
Strong contractual ties also improved perceptions of quality shared by parents and teachers. "Open lines of communication between the government and contractor may aid in the speedy resolution of performance problems, resulting in improved employee and parental satisfaction," she said.
The researchers also examined a number of other organizational factors that may influence a child care center's performance. For instance, they found that teacher training increased directors' satisfaction with quality. The perceptions of center quality among teachers were most influenced by the benefits and administrative support provided to them.
Parental assessments of quality were higher among younger parents, who used child care centers more frequently. They were also higher among parents whose children attended centers with lower student-teacher ratios and that were part of a larger network.
"Interestingly, we found that teacher assessments of quality had an independent and significant effect on parental assessments of quality," she said.
The study also suggests that the racial composition of a center's students has a mixed impact on performance assessments. Although centers with a higher percentage of white students had more satisfied directors, they also had higher numbers of regulatory violations and less-satisfied parents.
"It is possible that the demands of parents whose children attend predominantly white centers translate into tougher inspection standards due to complaints and demands for higher-quality care, thereby producing higher regulatory violations," she said. "But more research is necessary in this area."
The other co-authors of the study, "The Performance Puzzle: Understanding the Factors Influencing Alternative Dimensions and Views of Performance," were Hyun Joon Kim of Korea University and Kristina Lambright of Binghamton University. You can read the paper at http://jpart.oxfordjournals.org/content/24/1/1.full.html?etoc (subscription required).