Environment
A Good Life on a Finite Earth: The Political Economy of Green Growth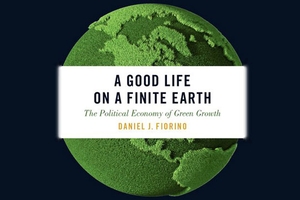 When it comes to the economy and the environment, it's not always an either-or proposition.
Daniel Fiorino, distinguished executive in residence at the American University School of Public Affairs, argues that policymakers need to protect the environment if they want the economy to grow in the long-term.
In his new book, A Good Life on a Finite Earth: The Political Economy of Green Growth, which was published in December by Oxford University Press, Fiorino links academic research with policy analysis. He suggests green growth — the right mix of policies, investments, and technologies leading to beneficial growth within ecological limits must be incorporated into the structure of economic and political systems. There are limits to the environmental pressure the world's natural resources and climate can withstand.
"We are using up the capacity of the earth," said Fiorino, who is also director of AU's Center for Environmental Policy. "We have to figure out ways of addressing that, not only because we need to protect the environment, but also because the economy depends on the environment. You can't have an economy without water, or a successful and equitable an economy with political instability or sea level rise. Everything has to work together."
The book pragmatically suggests a long-term perspective where businesses integrate environmental goals and clean energy into their economic decision-making. Fiorino discusses the challenge of rapidly growing economies in countries, such as India, where the heavy use of fossil fuels is stressing the environment. He explores the benefits of energy efficiency and potential jobs in solar and wind power.
Rather than viewing environmental policies as job killers, Fiorino says the debate can be reframed to promote collaboration.
"Economies are going to grow, they just need to grow in different and better ways," said Fiorino. "It is clear from the evidence that the most equitable and meaningful way of growing is to account for the effects of economic decisions on the environment and to link the two issues in positive ways."
In one chapter, Fiorino examines governance (authoritarian versus democracy) and showcases best practices of environmental policy in Scandinavian countries. In another, he demonstrates how inequality affects environmental policy, typically causing more harm to low-income groups.
The book grew out of a chapter on the green economy he wrote for Conceptual Innovation in Environmental Policy (MIT Press, 2017). He realized there was need for a full book exploring the concept of green growth and spent the next three years on the project. It is designed for a broad audience that follows environmental policy, yet the book could be used in a variety of academic applications including economic and political science courses. Fiorino will have students read the book in his graduate level environmental sustainability class in the spring.
"You can't separate the economy and the environment. You have to look at them together," said Fiorino. "It's a matter of overcoming short-term thinking and vested interests; the big picture says you should aim for green growth."