On Campus
SPA and Guidehouse Bring Experts Together to Discuss Data Management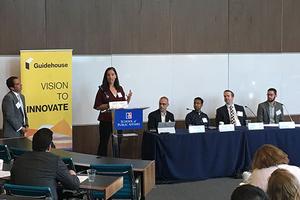 The School of Public Affairs (SPA) at American University and Guidehouse - a provider of management, technology and risk consulting services to the public and commercial sectors - convened a panel of thought leaders on July 30 to discuss strategies in the increasingly complex field of data management. Demands for data-driven information in the public sector are on the rise, and government agencies are looking for ways to leverage data to better to serve the public. Lawmakers are also eager to access data-driven insights to make sound policy decisions.
 
"The field of IT is changing faster than anyone ever envisioned," said Patrick Malone, executive director of the SPA Key Executive Leadership Programs. "Creating a space for dialogue about the issues facing government IT leaders is crucial to tackling these enormous challenges."
A panel of speakers working in both the commercial and public spheres discussed approaches to streamlining data collection and transitioning to systems that support their agencies' missions.
The event, which is the first of three in series on the issue, was designed for people working in government to learn best practices in this arena, said Sasha O'Connell, SPA executive-in-residence and director of the master's program in Terrorism and Homeland Security Policy. Prior to joining the SPA faculty, O'Connell served as a director at Guidehouse. Previously, she was the chief policy advisor, science and technology at the Federal Bureau of Investigation (FBI).
"Data management for stakeholder and customer service is critically important today for all national security departments and agencies as the volume of data increases exponentially and the demand and expectation for predictive analytics surges," said O'Connell. "It was very interesting that the theme of change management and communications came out across the board from all of our panelists. Whether it is the skills you need to be effective in a data organization or where to focus as a data management leader folks kept coming back to communications."
Highlights included insight from Monique Crews, insurance analytics and policy acting branch chief at the Federal Emergency Management Agency (FEMA), who discussed how her team worked to transform its national insurance program and speed up application process for people seeking relief after natural disaster. While she said that "deep understanding and empathy for the customer," was the motivating factor in this change, real numbers and hard facts were needed to get support from lawmakers on Capitol Hill.
Similarly, Matthew Graviss, chief data officer at U.S. Citizen and Immigration Services and a graduate of the Key Executive Leadership program at SPA, faced challenges as a new leader working to transition the backlogged system of applications for refugees and asylum seekers from a paper to a digital environment. He emphasized that consistent communication was a key to early progress in obtaining the right data.
"It's about change management and how to get a group from one place to the next," said Gravis, who formed a data management counsel to meet regularly to discuss goals. "Everybody is trying to modernize the process. The trick is to get on the same page and have a common roadmap."
Other panelists included Key alumnus W. Preston Werntz, chief data officer in the Office of Cybersecurity and Communications at the Cybersecurity and Infrastructure Security Agency, and Quinn Chasan, head of customer analytics Google Cloud, Google. The discussion was moderated by Jeremias Alvarez, a managing director at Guidehouse. The next event in this discussion series will take place on Sept. 24.