Government & Politics
Representatives-Elect and Problem Solvers Caucus Co-Chairs Featured at Hill Event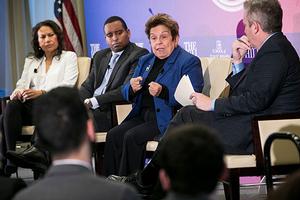 American University's School of Public Affairs co-sponsored an event with AU Kennedy Political Union and The Hill featuring U.S. Congressional representatives and representatives-elect, giving their take on strategies and predictions for bipartisan compromise in the next legislative session.
U.S. Representatives Tom Reed (R-NY) and Josh Gottheimer (D-NJ) discussed their work as co-chairs of the Problem Solvers Caucus, a group of about 48 lawmakers who hash out issues at weekly late-night, bipartisan meetings. The two newly re-elected representatives (who supported each other's campaign bids) said the caucus has developed a culture of trust and civility that is making a difference.
"We don't play gotcha politics," said Reed. "It's about understanding the policy and seeing where we can find our common ground. Then when we get to that common ground, we vote as a bloc."
The caucus is pushing for reforms to the House rules to give rank-and-file members more of a voice in moving legislation forward. Reed announced at the event that he was willing to support a speaker candidate, including Nancy Pelosi (D-CA), if the person agreed to enact the proposed Break the Gridlock reform package.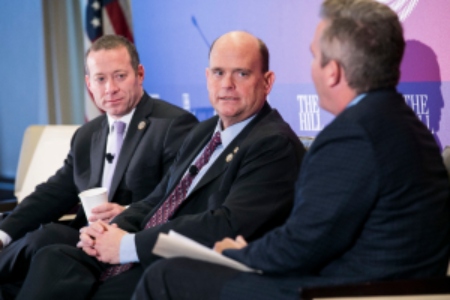 Gottheimer said the existing rules that enable leadership to keep bills — some with broad bipartisan support — from coming to the floor for a vote are "mind-numbingly frustrating." The caucus has come together on school safety, prison reform, and addressing the opioid crisis, demonstrating that lawmakers can cooperate, but changes to the process are needed, he said.
"It's about empowering members," said Gottheimer. "The committees should have power again, and people should be able to do business."
Reed expressed a repeated sentiment among panelists at the event: "It is time for this city to change for the American people, and this gridlock — this governing by extremism on the hard right and the hard left — has to come to an end."
The midterm election produced a record number of women and minority candidates, and three new members of Congress on a second panel shared their campaign experience and hope for ushering in a new era of collaboration.
Representative-elect Veronica Escobar (D-TX) said it can be challenging for women to run for Congress because of family responsibilities and the need to raise large sums money. "I can understand why it took so long [to elect more women], but hopefully the doors that we've all opened for others … can help other diverse candidates so that Congress continues to look more and more like America."
Deep concern about the direction of the country and its treatment of immigrants under the Trump administration prompted Joe Neguse (D-CO), whose parents were refugees from Africa, to become a candidate for Congress, elected for the first time in November. Former Secretary of Health and Human Services Donna Shalala (D-FL), representative-elect, said she was motivated to serve by frustration and concern about health care. In the next legislative session, the incoming lawmakers mentioned areas of potential compromise as infrastructure, immigration, and criminal justice reform, among others.
In his remarks on AU's behalf, Grossman talked about how the new Sine Institute of Policy & Politics will encourage dialogue by bringing together cross-sectoral experts to work on the most pressing challenges in a way that promotes common ground.
"It's essential that this sort of dialogue continues and increases," said Seth Grossman, chief of staff to AU President Sylvia Burwell.