On Campus
Addressing Inequality in the Era of "Alternative Facts"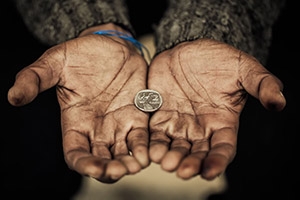 Adam Gamoran, president of the William T. Grant Foundation, recently spent a day with faculty and students at American University. Hosted by SPA's Washington Institute of Public Affairs Research, Gamoran met with members of AU's School of Education, College of Arts and Sciences, and School of Public Affairs.
In a research workshop with faculty and PhD students, Gamoran describe the grant and fellowship opportunities the William T. Grant Foundation has available to support academic research.
Later that day, in a lecture to students and faculty members, Gamoran stated that inequality is the "fundamental challenge of our time." The challenge now is to make the case to policy makers in an era of "alternative facts" as the government goes through transition.
"One month into the new administration, facts are under assault as are concerns with inequality," said Gamoran.
Examining how to best reduce income inequality is a one mission of the New York- based William T. Grant Foundation. It supports social science research and encourages policy makers to use evidence when making decisions.
Now, at a time when the divide between the rich and poor is as great at any time in measured history, there are indications that policies to respond to that gulf may be shifting.
"In the new administration, we may be rowing upstream," said Gamoran.
Moving forward, Gamoran said efforts should be made to find "points of connection" on programs with support across the political spectrum. In the absence of federal support, policies can be tested at the state and local level to see what approaches lead to lower levels of inequality, he added. And research should continue to stockpile good ideas for a time when implementation is feasible.
Over time, social programs that offer extra support, mentoring, or financial help, are needed to combat inequality. But Gamoran noted that it is important to identify effective policies, programs and practices and share them with the leaders as they craft the upcoming social agenda.
"It was a real honor to have Adam visit with our faculty and speak at SPA," said SPA Professor and Director of WIPAR, Dave Marcotte. "We're grateful for his time as well as his insights and enthusiasm about the role research must play in addressing income inequality."
SPA's Dean Barbara Romzek said at the event that high impact, evidence-based research supported by organizations such as the William T. Grant Foundation can inform public policy. She added that having Gamoran on campus helps bring practice and theory together for students, opening the door for research and collaboration.
The Washington Institute for Public Affairs Research (WIPAR) serves as a center for collaboration among researchers at the School of Public Affairs. By fostering exchange between scholars in the school and the public affairs and policy communities in Washington and beyond, WIPAR seeks solutions to the most pressing policy challenges.