Environment
Investing in Green: Corporate Strategies That Address Environmental Sustainability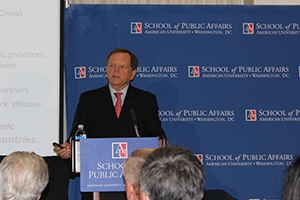 Major financial investments – from both public and private sources, and guided by smart and equitable policies – are required to transition the world's economy to a low-carbon path, reduce greenhouse gas concentrations to safe levels, and build the resilience of vulnerable countries to climate change. But how can we manage this shift?
Three environmental leaders recently discussed these issues at the AU School of Public Affairs' Scher Sustainability Forum on Private-Public Financing for Global Sustainability. Held on May 18 at the National Press Club in Washington, D.C., panelists included Terry Tamminen, co-founder of the R20 Regions of Climate Action; William K. Reilly, former Administrator of the US Environmental Protection Agency and member of the President's Global Development Council; and, Lynn Scarlett, Global Managing Director for Public Policy at the Nature Conservancy.
"We need trillions, not billions, if we're going to solve the world's environmental problems," said Tamminen. "There's an enormous amount of capital needed if we're going to move our economy from brown to green."
Dan Fiorino, director of SPA's Center for Environmental Policy and event moderator, spoke about the importance of overcoming environmental challenges with relatively small global investments.
In his remarks, Fiorino described the need to identify smart public policy and innovative investments, noting that the United Nations reports that "investing two percent of the global GDP into 10 key [green] sectors could kick-start a low-carbon, resource-efficient economy. That's a little under 2 trillion dollars. Is it doable? We'll find out."
Lynn Scarlett talked about ways to put nature to work for the economy by investing in green infrastructure, such as increased greening to mitigate storm water runoff – which costs billions annually – or in coastal protection.
"We need better, cheaper, smarter, greener," said Scarlett. "The Nature Conservancy is looking at how we can put nature to work. For example, we've been looking at the role of oyster reefs in coastal resiliency and the role that restoration plays."
When discussing the best scenario for climate change, insurance companies offer one opportunity to leverage change for governments around the world. Tamminen mentioned that British officials were alarmed in the 1980's when they discovered that insurance companies would no longer issue policies in the city of London because of climate risk and flooding. Working with the insurance companies, London officials were able to make a few billion dollars of changes to underground electrical lines and to add green space and natural flood barriers. According to Tamminen, these flooding and energy inefficiencies would have cost 10 times the amount to fix in the future if left unaddressed. And Londoners can once again buy insurance policies.
Bill Reilly talked about green infrastructure taking hold across the United States. Reilly said that in Chicago, the mayor asked what could be done in preparation for climate change. He worked with the city's universities and installed permeable concrete, expanded emergency services in preparation for heat related illnesses, increased green roofing, and planted trees that help to mitigate storm water runoff.
"A lot of very good things are happening at the local level, and undertaken even when Congress wasn't interested," said Reilly. Investing in nature is not without its challenges. The panelists talked about how countries around the world work in different ways, with different politics and policies that can sometimes work against environmental solutions. There are many global challenges, but the panelists identified waste, transportation, and energy efficiency as opportunities ripe for investment and collaboration.
"Nature really does make a difference and investing in it properly can be a very cost effective solution," said Scarlett.
The Scher Sustainability Forum was established by Peter Scher, a graduate of SPA, and his wife, Kim Tilley. Their passion for environmental responsibility in both the public and private sector inspired the founding of this series. The Forum explores the most pressing environmental and energy policy issues of our time.
Please visit SPA's Center for Environmental Policy for more information.