Government & Politics
James Thurber Discusses State of American Democracy with Sen. Cory Booker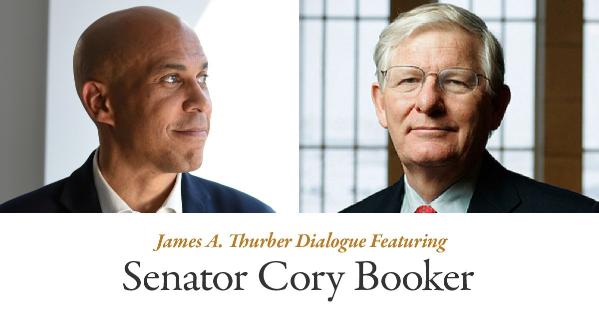 While U.S. Senator Cory Booker (D-NJ) will always be a "prisoner of hope" about the future of the country, he is not naïve to the challenges ahead, he said to SPA Distinguished Professor James Thurber at a virtual event on January 29.
The conversation, co-hosted by the AU School of Public Affairs (SPA) Center for Congressional and Presidential Studies, the Kennedy Political Union, and the United States Capitol Historical Society, was the first in the series of James A. Thurber Dialogues on American Democracy.
Booker expressed concern about the United States upholding the common ideals of democracy and the vitriol of politics today.
"The partisan combat right now is not serving our nation," Booker said. "Unless we can find a way out of this trap, we are in trouble."
The country is not alone in its struggles – democracy is under siege globally, he said. "We live on a planet right now where the scorecard between authoritarian governments and democracies in the last 20 years or so hasn't been so good," said Booker, citing political system changes in Turkey, China, and Hungary.
On the upcoming impeachment trial of Donald Trump, Booker spoke to the importance of holding the former president accountable: if he is not convicted, he continued, the Senate should consider censure. "A lot of us are fearing that 20 years from now, there might come along another president with authoritarian tendencies who will not have learned anything from the Trump chapter, [and who is] more successful in the attempts to undermine democratic processes," said Booker. "We have to send a bipartisan signal now, that what happened was awful . . . so at least history will see that a bipartisan group of senators said, 'This is not right.'"
Thurber and Booker discussed suggestions to fortify the Capitol in the wake of the January 6 insurrection, which resulted in additional troops stationed on the property. "I think it's a sign of weakness that our democracy has gotten to the point where we need the military to protect that citadel of democracy," said Booker. While allowing the need for property fortification, he pointed to deeper questions. "Shouldn't we be having a larger conversation about how to prevent the need for additional protection and stop Americans from fearing one another? Shouldn't we be convening a real commitment to national healing and a revival of civic grace?"
Booker, who wrote United: Thoughts on Finding Common Ground and Advancing Common Good (Ballentine Books, 2017), spoke of his emotional reaction to seeing rioters carrying a Confederate flag. "It is a horrific symbol of oppression, violence, and injustice that is so hurtful to millions of Americans," he said. "To have this moment, where someone so triumphantly, so gleefully, so hatefully would dare bring that flag into that sacred civic space¬––there was a part of me that was really just broken that night and it still hurts me."
As for the upcoming legislative agenda, Booker said there should be a hard push to fulfill election promises, including raising the minimum wage, funding infrastructure projects, passing criminal justice reform, addressing climate change, and investing in education and research. "I think we are falling behind globally, on issues that threaten not only our democracy, but threaten the very ideals that we have," Booker said. "I'm worried about us losing our edge because we have a failure to come together, think big, and look to . . . the horizon."
The next guest in the James A. Thurber Dialogues on American Democracy will be journalist Anne Applebaum on February 24.