Symposium Draws Experts Aspiring to Transform the Justice System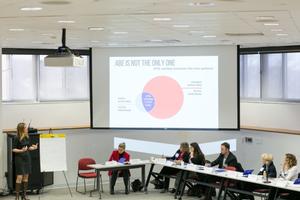 Experts from courts, corrections, and policing — those who work in the field and those who study it — gathered at American University Dec. 12 to discuss how to best improve the justice system and accelerate change.
AU School of Public Affairs (SPA) Professor of Practice John Firman organized the symposium with 39 participants including judges, district attorneys, public defenders, chiefs of police, corrections officers, representatives from victim advocacy groups, academics, and students. The group was asked to develop innovative recommendations that could be tested and translated into a long-term public policy reform agenda.
"Today was a landmark day for practitioners, researchers and future justice system leaders coming together to work on a shared goal of justice system transformation," Firman said. "And it was also a landmark day for AU — convening the symposium and making clear its commitment to support the work of those gathered."
Dick Bennett, acting chair of the AU Department of Justice, Law and Society, encouraged the practitioners and academics to consider both big-picture reform and the smaller steps needed to achieve meaningful change.
"Start thinking outside the box about how we can make incremental changes that bring about better efficiency, better effectiveness, and also are doable," Bennett said.
To kick off the discussion, Anne Milgram, professor of practice and distinguished scholar in residence at New York University School of Law, framed the urgency of the problem in her keynote address. She was frank in her assessment of the lack of fairness in the criminal justice system and the need for sweeping change.
"I believe our system is deeply broken," said Milgram, a former New Jersey attorney general who implemented broad reforms in the police department of Camden, N.J. Too many decisions are based on gut instinct and anecdote rather than data, which is increasingly available as a tool to help better direct decisions in criminal justice, she explained.
The United States spends $270 billion a year on criminal justice, and the country has an incarceration rate that is much higher than other industrialized countries, said Milgram. As a result, one in five Americans has a criminal record today.
"The problem in the criminal justice system is that it's an enterprise system with no CEO, nobody in charge. Everybody operates in their own silos," said Milgram. She argued as police, prosecutors, and others make changes, it rarely leads to systemic changes.
Milgram urged a shift of focus from cases to people. Questions of reform should begin with a consensus of core values and then collaborative work on evidence-based solutions, she said. Milgram said she is hopeful that public opinion is supportive of criminal justice policy reform and the challenge now is to convince public officials to move ahead.
The participants spent the bulk of day in working groups developing specific action items to address inequity and trust and transparency, among other overarching issues. The recommendations will be summarized in a report that will be produced by the School of Public Affairs and shared around the country next year in hopes of advancing support for the agenda. The symposium was the first in a series of national-level events with key Criminal Justice system leaders and SPA faculty on the issue of justice reform.