On Campus
Memorial Award Honors SPA Alumnus, Kevin Sutherland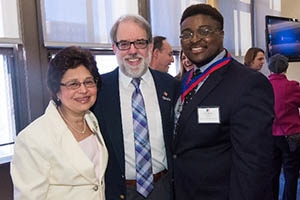 Devontae Torriente SPA/BA '18, has been named the inaugural recipient of the Kevin Joseph Sutherland Memorial Scholarship.
"I'm honored and grateful to receive this scholarship and I hope that the work I have done and will go on to do will make the Sutherland family and the AU community proud," said Torriente, a New York City native. Torriente is studying justice & law with an interest in criminal justice reform and politics at AU's School of Public Affairs.
The memorial scholarship was established to honor the memory of Kevin Sutherland, SPA/BA'13 who was killed in Washington, D.C. on July 4, 2015. The annual scholarship will be awarded to undergraduate students enrolled in the School of Public Affairs, with an emphasis on honoring those involved in public service and student government.
"Kevin left a such a positive legacy for the School of Public Affairs," said Vicky Wilkins, SPA senior associate dean. "We are so honored that his family chose to help other students succeed while at SPA."
In addition, The Kevin Sutherland Internship Fund will support students taking unpaid public service internships on Capitol Hill.
"It is our intention to create an endowed scholarship to support students seeking a career in public affairs," said Sutherland's father. "In particular, we hope to encourage students who will follow in Kevin's footsteps and enter public service for the right reasons. Kevin was not seeking fame or personal recognition or a high title. Kevin was passionate about making the world a better place."
For more information about giving to the fund, the internship scholarship, or if you're a student interested in applying, visit the Kevin Joseph Sutherland Memorial Scholarship Fund website.
You can learn more about Sutherland's life and photography at http://kjslegacyproject.org.