On Campus
Conference Highlights Value of Women in Leadership Roles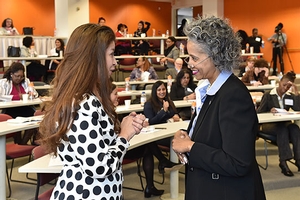 AU School of Public Affairs (SPA) hosted the first Key Executive Women's Leadership Forum on April 11, an event that brought together more than 100 women in academia, business, and government to talk about a variety of issues relevant to women in the workplace.

"The fact that so many people were willing to come out and be a part of this event, is a testament to the fact that these issues are real, serious, and must be resolved," said Patrick Malone, SPA executive in residence and the director of the school's Key Leadership Program. " We are so appreciative of everyone's presence and participation."

Kicking off the daylong event, SPA alumna Clare Bresnahan English (SPA/BA '08), executive director of She Should Run, talked about the fact that women make up less than 20 percent of the elected officials in the United States.

"Our country desperately needs your leadership," said English. "Our government is not reflective of our population. We cannot solve our problems if we do not have women represented at the table."

Her talk, was just one during the forum that featured panels of experts who addressed sexual harassment, career advancement, and the ways women can pursue leadership roles.

Sexual harassment was covered by Mark Maxin, adjunct professorial lecturer for the Key Executive Leadership Program and Carol Maskoff Associate Legal Counsel, Equal Employment Opportunity Commission. The discussion focused on the fact that leaders need to have a better understanding of harassment and what everyone can do to identify and eliminate such conduct from the workplace at the early stages.

"In 2015, there were 25,000 sex-related complaints in the private sector," said Miaskoff, "We are 40 years past the court decision saying that sexual harassment in the workplace is illegal, and it continues to happen anyway."

An afternoon panel featuring Gwen Sykes (SPA/MPA '01), CFO, U.S. Secret Service; Allison Ford, Manager, International Government Relations at United Technologies; Towanda A. Brooks, Chief Human Capital Officer, U.S. Department of Housing and Urban Development; and Boyden Rohner, Director of Cybersecurity Director of Cybersecurity Operations, Information Security Office, Department of Homeland Security (DHS) – focused on the advancement and promotion of women in the workplace. Research shows that, even though the majority of women and men both express the desire to be promoted, women are still less likely to advance to the next level in their organization.

Sykes encouraged women to be confident in the workplace. "When you walk into a room, own it," said Sykes.

Similar advice was shared by other speakers throughout the day, including Rohner, who explained that "women have powerful ideas" and she encouraged women to share them more openly in meeting environments.

Closing remarks were given by Commissioner of the U.S. Equal Employment Opportunity Commission, Charlotte Burrows.

"We strive for workplaces with diversity and inclusion where everyone is respected," said Burrows. "As of September 2017, women were only 34 percent of [federal government] senior executive service."

She emphasized that the topics discussed during the day were important not only for the women in the room, but for a much broader audience of men and women in leadership positions.