Government & Politics
Partnership to Develop Hispanic Government Leaders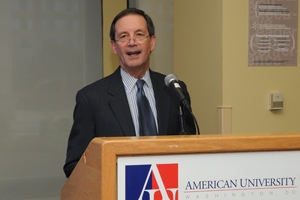 Washington, D.C.—Key Executive Leadership Programs has formed a partnership with the D.C. chapter of the National Association of Hispanic Federal Executives to assist it in developing leadership training workshops.

The partnership will be launched at an association event at the National Science Foundation on Friday, February 14.
"We are very happy that we are forming this historic educational partnership with Key to benefit the chapter membership," said Bárbara Zamora-Appel, president of the association's D.C. chapter. "Aspiring leaders will benefit from much-needed leadership training to succeed in their government careers."
Robert Tobias, director of the Key Executive Leadership Programs, added: "We are very pleased to be working with National Association of Hispanic Federal Executives and it leaders. We look forward to the opportunity to assist in the development of Hispanic leaders in government."

The National Association of Hispanic Federal Executives is an executive leadership association that recruits and develops Hispanic leaders for the Federal Public Service. The association was established in 1980 to help advocate hiring Hispanics into senior policy positions and to provide executive leadership career development training. The Association centers its efforts on senior leadership positions ranging from GS 12 through the SES.
The Key Executive Leadership Programs transforms good managers into extraordinary leaders for more than 35 years. Aligned with the U.S. Office of Personnel Management (OPM) Executive Core Qualifications (ECQs), the Key Executive Leadership Master's in Public Administration and Certificate prepares mid-career professionals at the level of GS-13 and above (or NGO equivalent) to become effective, top-quality team and executive leaders.

Key programs are housed in American University's School of Public Affairs, which offers education in the fields of political science, public administration, public policy, organization development and justice. It is the only school of its kind with three accredited graduate degrees, including the Key Executive Leadership MPA. SPA faculty and alumni are active in global policy legislation, advocacy and the nonprofit and private sectors, continuing the school's legacy of commitment to the principles of service.
For more information, contact KeShonda Morris, kmorris@american.edu, or Barbara Zamora-Appel, bgzamora@gmail.com.